Coming next … Reopening Schools – Health and Safety Protocols and Communication to Families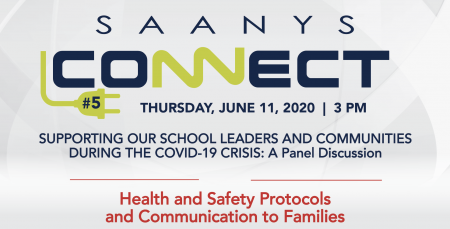 SAANYS CONNECT is a new way to learn and share on the topics most vital to school leaders in NYS right now:
30-40 minute panel conversations on current and rapidly evolving topics.
Each panel conversation consists of guest experts and SAANYS members.
The focus is on sharing experiences and providing you with expertise, resources and tools you can use now and as our current environment evolves.
Archive …
#4 – Provision of Special Education Services
May 28, 2020
Resources
Elmira City School District Special Education Services Plan
Slides from the Council of Administrators of Special Education – Phyllis Wolfram
NYSED State Guidance:
USDE-OSEP Federal Guidance:
#3 – Grading and Graduation Requirements
May 14, 2020
Resources
Quarter 4 Grading Video for Parents – Shenendehowa Central School District
Schools are using different criteria to assign fourth quarter grades – NYSSBA OnBoard
Below are resources for reflecting on a grading policy.
https://www.edweek.org/ew/articles/2020/04/01/grading-students-during-the-coronavirus-crisis-whats.html
https://www.nytimes.com/2020/04/04/us/politics/coronavirus-zoom-college-classes.html
https://www.edsurge.com/news/2020-03-12-the-case-for-shutting-colleges-down-instead-of-moving-classes-online
https://blogs.edweek.org/edweek/finding_common_ground/2020/04/assessments_and_grading_in_the_midst_of_a_pandemic.html?cmp=eml-contshr-shr
#2 – Supporting and Working with Our School Communities
April 30, 2020
#1 – The Missing Children in Our School Communities
April 16, 2020
Resources
– High School Reaching Disengaged Students – Shenendehowa Central Schools
– Maintaining Privacy If Making Calls From Home
– Home Visit Letter to Parents – Ron Agostinoni, Shenendehowa High School Principal
– Help Desk Ticket Submission Guidelines – Shenendehowa Central Schools
MHANYS and the School Mental Health Resource and Training Center
is committed to supporting students, families and schools.  As always, our goal is to reduce stigma, support mental health in communities across NYS, and empower people to develop their own strategies for coping with stress.
– Supporting the Mental Health and Wellness of Students and webinar recordings – Online training
(1-hour CTLE credit)
– Coping Tools to Support Mental Health and Wellness
– Resources for families and caregivers, including family education webinar series
– Panel Discussions: Maintaining Mental Health in Schools During Social Distancing