Mentor Coaching Services
Choose from 1:1 Mentor Coaching or Group Mentor Coaching. Districts can choose to use this service to satisfy first year mentoring requirements for administrators holding an initial SBL certificate. All participants receive a certificate of mentorship completion. CTLE credit is also available upon request. Learn more here.
SAANYS Statewide Events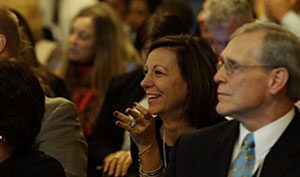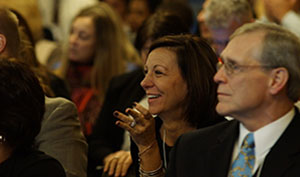 An annual conference and trade show held each fall is SAANYS' marquee event. In addition, workshops on everything from digital leadership to effective feedback are held in various locations around the state.
Regional Events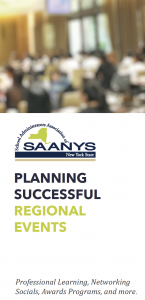 SAANYS is represented by 12 regions around the state and each of these regions often offers local programming and networking opportunities. To find out what's happening in your region, visit the Regions page here.  For regional leaders seeking to plan a regional event for their members, download this useful planning guide.
PD Your Way
Learning from and sharing with one another is the best possible way to grow professionally.  SAANYS is fortunate to have a wide range of practitioners with proven expertise and experience to support your professional development needs. Let SAANYS help you plan everything from an administrative team meeting during the school day, to an after-school or full-day workshop, to an administrative retreat or superintendent's conference day for you or your teachers. These are all options that can take shape with SAANYS PD Your Way.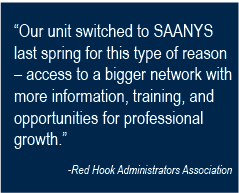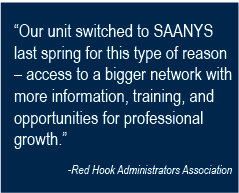 Search the growing list of offerings and contact Kbronson@saanys.org to bring SAANYS to your region or district.
Online Learning
Webinars and online courses and book studies enhance professional development opportunities for today's busy school leader. Click here to access online offerings.