Serving Public School Leaders Since 1972
The School Administrators Association of New York State (SAANYS) is proud of its long history of supporting New York's public school leaders and their communities. Our mission is steadfast – to provide direction, service, and support to our membership in their efforts to improve the quality of education and leadership in New York State schools. We continue to accomplish our mission by consistently delivering unequaled service, advocacy, and supporting benefits to over 22,000 public school principals, assistant principals, directors, coordinators, and essential service leaders in many of New York's public schools and BOCES.
A history of dedication and service to the profession of school leadership.
Take a walk through history with this recent book chronicling not only the work of the association throughout the years, but also the changing political and social landscapes during that time.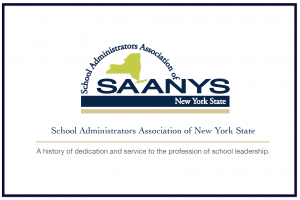 The SAANYS Team:
Officers and State Executive Committee:
President:
Tony Cardamone, Baldwinsville CSD
President-elect:
Scott Comis, Valley Stream #24 UFSD
Past President:
Harry Leonardatos, Clarkstown CSD
Executive Committee Members

Linda Klime, Lansingburgh CSD
Christine Arlt, Central Valley CSD
Mary Volkomer, Oswego City SD
NYSFSA:
Peter McNally, Exec. Director
SAANYS Staff:
The staff at SAANYS' headquarters in Albany is here to support you. Please contact our staff at any time with your inquiries or suggestions using the email addresses below, or by calling 518-782-0600. After-hours messages for the SAANYS Legal Department are retrieved regularly. Be sure to leave your area code for a call back.

Kevin Casey
Executive Director
kcasey@saanys.org | 518-782-0600 ext. 102

Jennifer Carlson
Deputy Executive Director
Jenn graduated from Albany Law School in 2003 and joined the SAANYS Legal Department in 2010. Prior to joining SAANYS, Jenn worked for over seven years in a Capital Region private law firm, performing primarily civil defense work for municipal employers.
jcarlson@saanys.org | 518-782-0600 ext. 113
_______________________
Legal Department:
Arthur Scheuermann
General Counsel
Since 2002, Art has been leading the SAANYS Legal Department and team of field attorneys and negotiators. A former assistant district attorney on Long Island, Art spent a number of years honing his labor and employment relations expertise at an Albany law firm prior to arriving at SAANYS.
ascheuermann@saanys.org | 518-782-0600 ext. 109

Brian Deinhart
Counsel
Prior to joining SAANYS, Brian was an associate attorney at a law firm in Albany, New York, where he focused his practice on commercial litigation. He is a 2017 graduate of Cornell Law School.
bdeinhart@saanys.org | 518-782-0600 ext. 103

Brett French
Counsel
Brett, a lifelong resident of the Capital District, is a 2015, cum laude graduate of Syracuse University College of Law. Brett joined SAANYS Legal Department after several years in private practice with a local Albany law firm where he spent most of his professional time litigating civil and commercial matters.
bfrench@saanys.org | 518-782-0600 ext. 101

Trevor Telisky
Trevor is a 2023 cum laude graduate of Albany Law School and a 2021 manga cum laude graduate of Siena College, where Trevor earned his bachelor's degree in finance. Prior to joining the SAANYS Legal Department and throughout law school, Trevor clerked for an Albany law firm focusing primarily on civil and commercial litigation matters.
ttelisky@saanys.org | 518-782-0600 ext. 105

Kim Hoggan
Administrative Assistant to the Legal Department & Negotiation Team Member
Legal Department contact and assistance, requests for negotiations assistance, and research.
khoggan@saanys.org | 518-782-0600 ext. 199
_______________________
Other Departments:

Holly Bell
Administrative Assistant
Contact Holly for the deputy executive director and government relations committee.
hbell@saanys.org | 518-782-0600 ext. 132

Darlynn Brazee
Business Manager
Contact Darlynn with inquiries pertaining to accounts payable & receivable.
dbrazee@saanys.org | 518-782-0600 ext. 217

Karen Bronson
Director of Professional Learning
Contact Karen for information on SAANYS' events, including PD Your Way and the MentorCoach service.
kbronson@saanys.org | 518-782-0600 ext. 133

Lashay Broomer
Communications Coordinator
Lashay works in the Communications Office on the News & Notes newsletter, event promotions, electronic communication, advertising, and website updates.
apfluger@saanys.org | 518-782-0600 ext. 112

Katy Brunetti
Executive Assistant and Office Manager
Katy, a longtime staff member at SAANYS, is the liaison to the SAANYS Board of Directors and handles office and building management issues.
kbrunetti@saanys.org | 518-782-0600 ext. 121

Sharon Caruso
Graphic Designer
Sharon works in the Communications Office on the production of marketing and programming materials.
scaruso@saanys.org | 518-782-0600 ext. 110

Kathy Duffy
Coordinator of Membership
Contact Kathy regarding dues, member insurances, benefits, a change of address, or other membership issues.
kduffy@saanys.org | 518-782-0600 ext. 108
Christine Foglia
Coordinator of Events and Services
Call on Christine with questions regarding workshops and event logistics and registration.
cfoglia@saanys.org | 518-782-0600 ext. 111

Cindy Gallagher
Director of Government Relations
Cindy leads the member-composed Government Relations Committee, assuring that the collective voice of SAANYS members is heard on important legislative and regulatory matters. cgallagher@saanys.org | 518-782-0600 ext. 185

Michelle Hebert
Director of Communications
Michelle oversees all media relations, publications, marketing, and electronic communications.
mhebert@saanys.org | 518-782-0600 ext. 107

Jill Palladino
Head Receptionist
Jill serves as the first point of contact at the front desk for SAANYS.
jpalladino@saanys.org | 518-782-0600 ext. 115
Justin Parrish
Membership Specialist
Justin assists the membership department with membership dues, insurances, benefits, and other membership-related issues.
jparrish@saanys.org | 518-782-0600 ext. 200

Deborah Taylor
Director of Corporate Services
Debbie serves as SAANYS´ liaison to the business community, forging beneficial relationships with select companies.
dtaylor@saanys.org | 518-782-0600 ext. 100
SAANYS Outside Legal Attorneys
Jaros & Jaros
Ronald L. Jaros, Esq. and Jason P. Jaros, Esq.
8207 Main Street, Suite 13
Williamsville, NY 14221
716-204-8851  |  fax: 716-685-1304
Heilig, Branigan & Miller, LLP
4250 Veterans Memorial Highway, Suite 111E
Hollbrook, New York 11741
631-750-6888
Satter Ruhlen Law Firm, PLLC
Mimi C. Satter, Esq.
217 So. Selina Street, 6th floor
Syracuse, NY 13202
315-471-0405  |  fax: 315-471-7849
Hinman, Straub, PC
Bartley J. Costello, III, Esq.
121 State Street
Albany, NY 12207
518-436-0751  |  fax:  518-436-4751
Lipsitz Green Scime Cambria LLP
42 Delaware Avenue
Suite 120
Buffalo, New York 14202
716-849-1333
Louis D. Stober, Jr., LLC
350 Old Country Road, Suite 205
Garden City, NY 11530
516-742-6546  |  fax:  516-742-8603