Region 10
Equitable donated a nice prize basket for a putting contest they ran. Attendance was just shy of 30 and a great time was had by all!
Pictured from left to right are:
Kurt DeAngelo, Equitable
Molly Hagan, Region 10 Co-chair (Cazenovia)
Frederick Kirsch, Retiree Advisory Board
Mary Volkomer, Region 10 Co-chair (Oswego)
Joe Scro, Equitable
---
Regional Structure
Region 10 executive committee serves members in Cayuga, Cortland, Onondaga, Madison (Cazenovia only), and Oswego counties. Under the leadership of the regional chairperson, elected committee members provide collegial support for administrators and administrative units in the region. Your regional representatives are your local contact for state-level representation and coordination of services.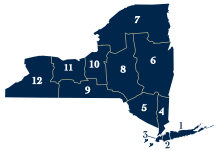 Region 10 Contacts
Name: Tony Cardamone
Title: President / Regional Chair
Email: tcardamone@bville.org
Phone: (315) 638-6118
Name: Mary Volkomer
Title: Executive Committee Member, Regional Co-Chair, Treasurer
Email: mvolkome@oswego.org
Phone: (315) 341-2500
Name: Molly Hagan
Title: State Board Member
Email: mvolkome@oswego.org
Phone: (315) 655-1370
Name: Anthony Curulla
Title: Regional Representative
Email: acurulla@twcny.rr.com
Phone: (315) 243-8028
Name: Henry Quattrini
Title: Regional Representative
Email: hq1953@gmail.com
Phone: (315) 882-4247
Name: Jenn Raux
Title: Government Relations Committee
Email: jraux@caz.cnyric.org
Phone: 315-655-1317
Name: Dana Ziegler
Title: Government Relations Committee
Email: dziegler@liverpool.k12.ny.us
Phone: (315) 453-0272
Name: Dr. Fred Kirsch
Title: Retiree Advisory Board / Government Relations Committee Retiree
Email: fkirsch@windstream.net
Phone: (315) 560-5152
Name: Maureen Patterson
Title: Government Relations Committee Retiree
Email: drmaureenpatterson@gmail.com
Phone: (315) 882-2844
City of Syracuse Contacts
Name: Arthur Grimes
Title: State Board Member
Email: agrimes1015@yahoo.com
Phone: 315-278-4266
Name: Robert Allen
Title: Retiree Advisory Board
Email: daisyallen@msn.com