An Unmatched Resource for School Administrators
It's hard to appreciate the value of SAANYS' legal and labor relations services until the need arises. Our attorneys are available directly, for expert advice and representation on professional matters. And best of all, legal and labor relations services are benefits included with your SAANYS "Active" membership, which represents a fraction of the cost of hiring outside counsel.
Legal Services for Job-Related Issues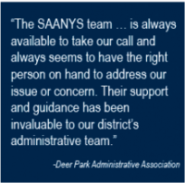 SAANYS' Legal Department offers members comprehensive, aggressive representation on job-related matters, with no dollar cap. Thousands of calls are placed to the legal department each year on topics ranging from termination and defamation to APPR issues.
We employ a team of in-house attorneys that travels throughout New York State, as well as field attorneys on Long Island and in upstate cities, to provide legal support for all of our members statewide. Our team of attorneys is available directly and immediately by calling 518-782-0600.
Labor Relations and Negotiation Services
Another valuable member benefit is SAANYS' labor relations services. Negotiation services include advice, assistance, and representation according to individual unit needs throughout the entire negotiation process. Members have a choice of using a SAANYS attorney or a trained negotiator, whichever is requested. Negotiators and teams are offered extensive resources, including multiple research databases of salary information. In addition, negotiators average 10-12 hours of pre-negotiation preparation for each unit. Call 518-782-0600 for negotiations assistance.