Educational Vistas, Inc.
Good People Doing Good Work - April 2021 News & Notes
Sponsor Opinion Piece by Kenneth A. Facin,
Solutions Facilitator, Educational Vistas, Inc.
School leaders across the state are finalizing budgets and in doing so are making strategic decisions that will define student learning and resource allocation for the 2021-2022 school year. The American Rescue Plan funds have helped New York State schools immensely during this challenging economic time. The budget decisions being made now will define your district's post pandemic student learning and support systems and architecture. There are some really good people doing some really good work in education that are worth exploring as you make these important decisions. I have personally worked with all four of these people on student social emotional development, school redesign, community building, and leadership development.
Dr. Gil Noam and his team at Partnerships in Education and Resilience (PEAR) are doing wonderful work with schools as they reconstruct and transform their current and post pandemic learning environments.  Dr. Noam's new book; Ten Big Bets: Transforming Education During the Pandemic and Beyond is a must read for school leaders.  Roger Weissberg, Chief Knowledge Officer at CASEL (Collaborative for Academic, Social, and Emotional Learning), describes the book as "beautifully written, scholarly, and practical. Every reflective educator who aspires to help their students and colleagues learn and grow socially, emotionally, and academically should read and be inspired by it."  More information about PEAR and Dr. Noam's book can be found at www.pearinc.org.
Schools will need to fully develop supportive learning communities that build on safe and strong relationships and practices when students return. Ralph Singh and his Wisdom Thinkers Network are doing incredible work with culturally diverse stories that connect students, teachers and schools to community. Ralph currently consults to develop curricula and resources to bring an understanding of shared values into schools using teachings and stories of wisdom from the world's spiritual traditions and cultures. His latest project, Stories to Light our Way, Journey to the World of Good draws from eleven different traditions through shared values of honesty, trust, empathy, compassion, and the importance of relationships and community. More information about Ralph and his work can be found at www.wisdomthinkers.org.
Dr. Larry Myatt, co-founder of Educational Resources Consortium (ERC), applies the science of school renewal to transform learning rather than the usual business of school reform practices. By focusing on coaching, relationships, and analytical tools, Dr. Myatt and his team help school leaders and teachers identify actionable insights that deliver improved outcomes and results. The importance of collaboration and strong relationships are the cornerstone of ERC's work and enable sustained transformational and cultural learning shifts to occur even with the most strident staff and schools.  Myatt's truly amazing work is worth a look at www.educatuonalresourcesconsortium.org.
Kim Marshall and his weekly Marshall Memo are a must for every school leader and teacher. Kim, a former principal, reads 150 or so articles a week and chooses 8-10 that offer the greatest potential to improve teaching, learning, and leadership.  The 50 issues a year will increase your knowledge and understanding of best practices and challenges in the field with just one weekly read! More information on the Marshall Memo and a free sample can be found at www.marshallmemo.com.
Next Generation Assessments - March 2021 News & Notes
New York State's federal testing application waiver seeking not to assess students in grades 3-8 ELA and math and on high school regents tests this school year has been denied by the US Department of Education. The decision was not what was expected by the field. How will the decision impact the already sinuous and meandering school year that students, teachers and administrators have experienced? Assessments are good teaching tools have been accepted pedagogy for years. Demonstrating knowledge, skills and understanding is essential to establish student learning and comprehension. The pandemic has exposed our educational system's strengths and challenges. Teachers and school leaders have been remarkable in demonstrating flexibility and ingenuity throughout the past year in meeting the learning needs of their students. School leaders and teachers will ensure that NYS testing resumes with the best interest of their students but challenges remain. We need to reflect on assessments and reimagine their intent by merging academic understanding with student's social emotional development and growth. Using newly designed assessments presents an opportunity to improve how and what we measure and value from our students. There is promising research on test question wait time, guessing and other student test patterns that may illuminate student resiliencies, motivation, and engagement; however, more research is needed in this area.  President George W. Bush and Senator Ted Kennedy sponsored the No Child Left Behind (NCLB) legislation that led to school, teacher and student accountability, and a proliferation of state standardized testing.  The National Assessment of Educational Progress (NEAP) scores in math and reading from 1978-2012 and 1992-2012 respectively show very few gains, despite the billions of dollars we have spent. We know that the skills, attitudes and behaviors that employers and successful people possess are not measured in our current assessment platforms. The attributes of good communication skills, resiliency, empathy and the ability to work collaboratively and be reliable are of great value but are only measured when we survey students to allow them to voice who they are as a person. The values and behaviors that we seek in our relationships with others are the social emotional skills we don't measure as a part of a student's knowledge, skills and understanding in math and ELA standardized assessments. This should not diminish our academic pursuits in reading, writing, science, history and math, but we never realize the full child in student assessments of these subjects. The one thing that we all agree upon is how much we have missed our own relationships with friends and family and the yearning we have for in-person contact. We must continue to measure literacy and math skills but we should also expand our assessments to measure the social emotional skills that we seek in all people. Each child deserves for their voice to be heard in describing themselves as we help them become the good people we seek in our lives at work, in relationships and in our families. The math or reading teacher that grows a student's prosocial skills and empathy should be commended as much as for a rise in student scores.
The Potential for Post COVID-19 Learning - February 2021 News & Notes
Sponsor Opinion Piece by Kenneth A. Facin,
Solutions Facilitator, Educational Vistas, Inc.
Schools have done an amazing job of trying to reach all children during the pandemic but the reality is that many students have fallen behind with grade-level learning. Recent studies, including the McKinsey Report, estimate 30-40% of students may have as much as a 5-12 month reading and math learning gap by the end of the school year. We know that many students have inconsistently participated or have not participated at all educationally despite our best efforts to connect them to school. Many teachers and school leaders are frustrated with high failure rates among students, with many students not producing any evidence of school work. The learning crisis is going to have dire consequences on our nation and will need a herculean effort and a multitude of resources to properly address. Unlike any other crisis in our history the pandemic impacted the learning of all of our children in the country at the same time.
This crisis needs our fullest attention and the fact that President Biden has called the current state of education a national emergency truly illuminates the situation. To meet this moment for our children we will need to redesign our current school architecture and practices for learning. School budgets for the 2021-2022 school year are currently being developed with many focusing on preserving the status quo. We need to use the September 2021 re-start as an opportunity to rethink our approach. School leaders and teachers have already been collaborating during the pandemic to create new dimensions for learning for students going forward. We need to keep what is working; a robust cyber learning platform, known effective practices including assessments and a more meaningful relational approach with students and their learning. Social emotional well-being of students and staff matters.
There are many pathways to explore as we prepare for post pandemic schooling. Cyber learning may be used to address student attendance issues, project-based learning opportunities across and within grade-levels and/or accelerated learning. Are snow days gone? At the high school level where many students have fallen behind in graduation credits, we should invest in Vocational Apprenticeships along with rigorous TASC (Test Assessing Secondary Completion) programs to move students into high paying trade careers and secondary school completion.  At the elementary level schools will need to work within their communities to enlist and train retired professionals to serve as tutors and mentors for students. All SUNY and private colleges in New York should be engaged to bring college students into classrooms as well. What a wonderful opportunity to merge our youth and elders together serving students in their communities. The time to think about how we can address all of our learners as schools restart in the Fall should begin now.
The Importance of School Communities - January 2021 News & Notes
Sponsor Opinion Piece by Kenneth A. Facin,
Solutions Facilitator, Educational Vistas, Inc.
How schools function, teachers teach, and students learn has been on public display throughout the COVID-19 pandemic. School leaders and teachers are under intense scrutiny from politicians, parents, and the public as they try to keep their students safe, healthy, and learning. Many schools have adjusted their original September reopening plans to the reality in their communities, resulting in a modified form of in-person, remote, and/or hybrid learning. Changing how students learn has been problematic since schools closed in-person learning last March. Individual student participation and engagement challenges continue to be immense as the pandemic continues. Why are these issues so significant with students?
School socialization is arguably one of the most important learning experiences that students are exposed to outside of their families. It is also the most significantly reduced learning experience for students during this crisis. Many students attend school because of the strong human desire for socialization. Most schools, for better or worse, by their organizational grade-level structure, provide an opportune environment for students to learn and develop their social-emotional skills and values. A myriad of school socialization experiences bond and connect all children, regardless of socioeconomic status. These experiences are powerful and sometimes life-changing for students. Since the pandemic, students have not been exposed to many of these socialization communities which provide strong networks and supports for learners to thrive back in their classrooms.
Most schools get students involved in social communities by providing engaging voluntary outside the classroom learning environments and activities. These student learning opportunities are significantly important and combined with school day assemblies and field trips are essential to developing student socialization skills and attitudes. Numerous examples in schools illuminate how students connect with these essential supportive learning communities:
An art teacher who hosts a daily 20-student lunch drawing group
A school drama production connecting cast members, production crews, and teachers through their shared performances
Student choral and instrumental music communities
Student government
Teacher-led student volunteerism at individual, class, and school-wide levels
Student learning groups with teachers before and after school
Actor-led assemblies espouses that every child experience theater
Athletics, teams, coaches, pep rallies, pep bands, fans, and school pride
Teacher-led robotics, debate, journalism, chess, yoga, and so many more school club opportunities connecting students and learning
Important social learning communities supporting student classroom learning are not fully active in most schools today. The lack of these communities has compounded the challenges that schools face getting students involved and engaged in their learning. Perhaps we should pay attention to the social development needs of our students by providing new opportunities in some modified form to reconnect our students in 2021.
Harris Education Solutions
The Real Value of an Early Warning System is Saving Students (and Has a Bonus of Saving Time and Money) - April 2021 News & Notes

All Harris Education Solutions' products qualify under the NYS Education Department's 2021-2024 Learning Technology Grant Program.
Life is full of early warning systems alerting us of the need to intervene to avert major problems. A child comes to you crying because she fell off her bike, scraping herself. You clean her abrasions, knowing that dirty wounds get infected. Her crying was an early indicator. Your car temperature gauge lets you know when to pull over and add coolant before destroying the engine. By intervening in each situation, you save time and money. More importantly, you also save the child from unnecessary pain.
Students also signal when they need an intervention. Unfortunately, students' cries for help often get lost in the noise of a busy school. You oversee many students' education. Sometimes students' clues that they struggle are subtle, and you don't want to risk missing the signs of struggle with even one student.
With an Early Warning System (EWS), educators notice early at-risk indicators, provide targeted support, and students' flourish.
Without an EWS, teachers and administrators do not have the essential tools to support students effectively. They end up spending too much time accumulating and interpreting a dizzying array of data. Teachers who are busy collecting and aggregating data have less time to plan lessons with appropriate scaffolds. They can also feel demoralized because aggregating data typically isn't one of their core skills. They like that an EWS eliminates the inefficiency of the folder system.
Likewise, administrators prefer to provide leadership and resources than chase data. Educators hunting for data lose time, but hopefully, they see students decline before they get to a desperate place.
The inefficient use of educator time is not the worst part of not having an EWS. Students suffer when overworked educators miss early indicators of them disengaging. Missing early indicators is likely because educators have a lot to manage. The longer students languish without sufficient support, the further down the path of disengagement they go. Students who "slip through the cracks" are at risk of dropping out of school. Hopefully, the school notices and provides intense interventions before the students give up because dropping out of school decreases a person's opportunity in the job market. Delaying these interventions invariably cost more than early interventions. Even worse, students suffer emotional pain during the years they are struggling.
Early Risk Indicators
Research shows that students who are starting to disengage show academic struggles, behavioral problems, or poor attendance. Sometimes students have early indicators in all three areas. Tracking data in these three categories has proven to be effective at helping educators provide appropriate early interventions. Some schools also look at factors that affect students globally, such as their health and home environment. You might also consider tracking remote versus in-school learning to evaluate the effect the pandemic had on students. Problems not corrected in elementary school usually become more severe as students progress into middle school and high school.
In elementary school, look out for the following indicators:
Academic:
Low scores on achievement tests
Significant problems decoding in 3rd grade and beyond
Poor reading comprehension skills
Below grade level in math
Attendance:
Chronic absenteeism or tardiness
An extended absence
Behavioral:
Multiple behavioral referrals
Suspensions
Not getting along with peers
Health and Environmental:
Unstable home life such as loss of parent, homelessness, abuse, and food insecurity
Mental or physical health issues
In middle school and high school, continue to look for the same indicators as elementary school and add the following indicators:
Below a C in math or English
GPA below 2.0
Not earning enough credits to graduate
Getting in fights
Getting in trouble with the law
Being the victim or perpetrator of cyber-bullying
Becoming parents
Substance abuse
How an EWS works with MTSS
The edInsight EWS automatically tracks key indicators, aggregates data points, and shows the results graphically. Having it done automatically is especially critical for educators in medium to large schools.
Each indicator comes from a body of evidence. For example, low reading comprehension would show up in the data as assessment scores, poor grades, and teacher observations.
Some data points carry more weight than others. For example, unexcused absences would be more heavily weighted than excused tardiness. You can use the default settings for each indicator's weight or customize them to meet your needs.
The EWS monitors all the input and creates indicator report cards for each student, ranking them in order of need. These reports guide your MTSS interventions. Students with a lower risk indicator score are your Tier 1 students and will show up as green. Students needing Tier 2 support are highlighted in yellow, and students needing Tier 3 support in red. You choose the cutoff criteria for each tier based on your student population.
Helping students who are starting to slide from Tier 1 to Tier 2 is as important as seeing those who are slipping from Tier 2 to Tier 3. Their beginning struggles might go undetected in schools without edInsight's EWS. The edInsight dashboard shows you in real-time who needs what type of help so you can immediately implement interventions. With proactive support, you get them back on track. It feels great to see students progress and return to Tier 1. Providing early interventions spares resources and heartache.
Hallmarks of an Effective EWS
According to On Track for Success, an effective EWS, such as edInsight, has multiple layers and capabilities. Any decent EWS has the following qualities:
The dashboard shows students in the different tiers for academics, behavior, attendance, and holistically.
The reports are easy to generate and read.
It integrates with your other systems.
The reports are customizable to align with your MTSS criteria.
It encourages collaboration.
It includes progress monitoring.
It has built-in workflows, alerts, and process management. 
The edInsight Advantage
The edInsight EWS fulfills all the criteria as an effective EWS and has some fantastic perks. You can add notes about a specific student, and the dashboard alerts all the educators associated with that student. Teachers like this feature when they have a breakthrough with a student because they can communicate and collaborate about strategies and next steps.
The EWS works well with other solutions in the edInsight Student Performance Suite. By bringing all your data into one place, you see a complete view of your students. You know the instruction students received with the Curriculum & Lesson Planner Module. Using that knowledge, you can assign interventions using the RTI/MTSS Module. You may also want to build a group and analyze data points in the Data Management Module.
In addition to using default criteria, edInsight EWS allows you to customize the criteria you track. Customization quickly identifies at-risk students using data points that are especially important in your district. For academic indicators, you can use grades, formative testing benchmark assessments, and standardized assessments to identify and close learning gaps. Use the Assessment Builder Module to build special assessments for groups at risk. You can customize criteria by grade-level too, so you only see the information you need.
Administrators like that edInsight tracks district-specific intervention plans and RTI/MTSS Meetings. It improves progress monitoring which helps administrators evaluate the value of various interventions.
Request a demo of the Student Performance Suite to see how the EWS will save your district time and money and improve students' lives.
Helping Students Navigate Their Emotions When Returning to the Classroom - February 2021 News & Notes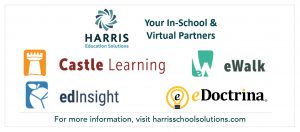 It's been almost a year since the start of the pandemic, which precipitated the move to some type of remote learning for many students and teachers. Blended learning is still prevalent today, with schools moving from in-person to remote at a moment's notice. This article focuses on helping your students adjust to returning to the classroom, whether from a short- or long-term absence from the physical classroom.
Harris Education Solutions offers products that provide answers to the many academic challenges faced in today's educational environment. Click here to watch a short video outlining our products' features and benefits.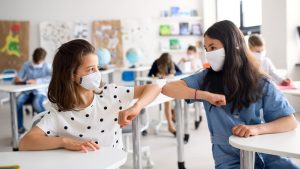 Ms. Conner guarded the door, which was ajar, so seven-year-old Mark would feel safe changing his rain-soaked clothes. As Ms. Conner discretely ensured Mark's privacy, she pondered his destructive tendencies and realized that they were his way of expressing and releasing emotional turmoil. Now his stress and grief were manifesting as a fear of being alone, even for a few minutes. Admitting this vulnerability and asking for help was out of character for Mark. Despite his usual bravado, this little boy needed emotional support as much, if not more, than other students did. Mark is hardly alone in having a big emotion overwhelm his ability to regulate behavior.
No child escaped repercussions from the pandemic. Some students suffered catastrophic losses. Many students dramatically changed their lifestyle. Every student had to adapt to differences in the community and at school. New thoughts and conversations about safety permeate every aspect of daily life.
Students returning to the classroom after remote learning or a holiday break will have varying responses. Returning to school can be an emotional experience, even in regular times. In addition to all the typical emotions, students returning in 2021 may also be suffering grief, depression, fear, disappointment, anxiety, guilt, loneliness, and more. No one expects you to act as a counselor. However, your daily interactions provide an opportunity to help students develop socio-emotional skills.
Teaching Empathy and Emotional Intelligence
Feeling emotionally safe in the classroom improves learning. As the teacher, you set the tone. However, students affect the emotional climate as well.
A student who has not experienced stress from the pandemic at home may start feeling it in the classroom. Students likely echo their family's response to the pandemic, which may be quite varied among different students.
This convergence of perspectives and feelings offers an opening to explore empathy and emotional intelligence. Without such instruction, many students will be oblivious to the feelings of their classmates.
Consider the differences between Marie and Mason. Marie had regular social interactions outside of school during the pandemic, including attending group events. Mason stayed home except for a few brief outings in which he always wore a mask and stayed six feet apart from others. At recess, Marie repeatedly invites Mason to play, and Mason continually declines. Marie may inadvertently be pressuring her friend to engage in a way that makes him uncomfortable, and Mason may be unwittingly hurting Marie's feelings by rejecting her invitations.
Open conversations about what feels safe to each student help mitigate these types of situations. Reading and discussing literature is another great way to explore different emotional responses.  Teaching children to respect the feelings and differences of other perspectives not only improves class culture, Harvard Business School considers emotional intelligence essential to a person's professional success.
Happy, Sad, Excited, and Nervous – All at Once
Human emotions are rarely orderly and logical. Students often experience cognitive dissonance because they have conflicting feelings about the same situation. Let students know that an onslaught of coexisting mixed emotions is normal. Mason's anxiety about the virus does not negate his excitement to see his friends.
Helping students identify each feeling and its source helps them make sense of how they feel. According to the experts in emotional intelligence, naming and admitting fear and anxiety helps people face them. Emotional check-ins also give students practice identifying their emotions and aid in forming a trusting relationship.
Like learning any skill, learning to identify and cope with tricky emotions requires seeing someone doing it. Some of your students may lack a model of emotional health in their home environment. You could act as the model or invite a guest speaker to address the class. Talking about a time you experienced conflicting emotions normalizes how they feel. The Disney movie Inside Out does a great job showing the purpose of negative emotions and could be used as a light-hearted entry point to the discussion.
Of course, keep your discussions and resources appropriate for the students' developmental level and the classroom. As you teach students to identify authentic emotions, including healthy coping strategies, will help your students through tough times. These conversations invite your students to increase their awareness and manage their feelings.
Providing Comfort and Calm
Even in the calmest, most nurturing classroom environment, students may have emotional breakdowns. Emotional breakdowns look different in different individuals because emotional expression varies by culture, gender identity, developmental level, personality, and temperament. Whereas one child might destroy property, another might cry or withdraw. If possible, try these strategies to help the student in crisis.
Help calm students so they can think clearly. Human touch is healing, and your first instinct may be to hug the child. Now, a simple embrace may not be allowed or safe. Suggest students hug themselves – the pressure and skin-to-skin contact of a self-hug mimics the feeling of a real hug. The self-hug will release oxytocin to aid in calming the child.
Once the student relaxes enough to think and talk, ask them what caused the intense emotions. As you listen, help the child find places they can take control of the situation. Unfortunately, there are circumstances where the only thing they have the power to control is their thoughts. Luckily, improving the positivity of one's thoughts cultivates positive emotional responses.
In the revolutionary work, "Mindset: The New Psychology of Success," it says,
Whether they're aware of it or not, all people keep a running account of what's happening to them, what it means, and what they should do. In other words, our minds are constantly monitoring and interpreting. That's just how we stay on track. But sometimes the interpretation process goes awry. Some people put more extreme interpretations on things that happen-and then react with exaggerated feelings of anxiety, digression, or anger. Or superiority. (p. 215) Carol S. Dweck
For example, a child who incorrectly answers a question could think, "I am dumb." or "I need to study this more." The first thought demonstrates a fixed mindset, whereas the second thought shows a growth mindset. The growth mindset fosters an improved emotional response because it puts the thinker in control of the situation. Dr. Dweck emphasizes the critical role teachers play in helping students develop a growth mindset. There are plenty of growth mindset resources available for the teachers.
Sometimes an event becomes catastrophized in the child's mind. For example, a child may touch another child who is fearful of germs. While the event may seem small to an onlooker, the scared student may jump to the conclusion that they now have a fatal infection. The thought induces a panic attack.
Acknowledge the student's authentic emotion. The way a student perceives the situation may, or may not, have its basis from accurate information. Either way, the feelings triggered are genuine. After verbally acknowledging their feelings, you may help the child reframe their negative thoughts and perceptions.
Enlist Help
As much as you care for your students, you do not have to shoulder all their emotional needs yourself. Ask a mental health professional to teach some lessons on coping strategies. Refer children who need it to the next level of support.
Being back in the classroom may present some emotional challenges for you too. Remember to take time to address your own emotional health needs.
We're all still adjusting to the new way of teaching our children, and there will be many challenges ahead as we continue to evolve to new norms in the world of education.
New York Schools Insurance Reciprocal
Let's Get it Together - April 2021 News & Notes