Overview of the January Board of Regents Meeting
The first 2020 meeting of the Board of Regents was held on January 13. The meeting was filled with an agenda ranging from the graduation measures initiative to a proposed change to a special education classification.
Graduation Measures
In the introduction to the item on graduation measures, Chancellor Rosa stressed that the board has two primary pillars of work that will guide their focus: early education and the graduation measures review. She discussed the importance of both in working toward a public education that is equitable for all students.
Staff first discussed an adjusted timeframe for the completion of this work, which has been extended to at least two years. Many meetings on this issue will be held across the state, as well as the formation of a Blue Ribbon Panel. The participation of SAANYS members at these meetings will be very important. This initiative has the potential to impact members' work should policies regarding assessments, coursework, and alternative pathways for obtaining a diploma be revised.
Staff at SED developed a comprehensive report on current requirements that was used in part for this meeting and which may be a good reference in your work. That report may be found using this link: https://www.regents.nysed.gov/common/regents/files/120brd1.pdf. Pay attention particularly to attachments 6-8 as the document covers quite a bit of information. Additionally, SED has set up a website for the graduation measures initiative, which may be found at http://www.nysed.gov/grad-measures. The dates of the meetings are posted at this site and it already has extensive information on NYS requirements, as well as analyses of requirements in other states.
Discussion Around the Table
Many members of the board expressed a host of process questions regarding participation, their roles, arrangements, and materials for the meetings. Other members indicated the importance of having students at the table, and staff indicated that SED has asked the hosts of each meeting to ensure student participation.
Both Regents Young and Cottrell wanted to add a focus on "dispositions" or soft skills. They thought that the materials did not adequately address the need to consider what was needed for college and career readiness in socio-emotional domains.
Regent Ouderkirk also indicated that she thought readiness should read "college and/or career readiness." This resulted in a longer discussion on whether both college and career readiness is needed to graduate. No conclusion was reached on this point and it will be interesting to see how final language on this issue is presented.
Special Education
This meeting primarily focused on special education issues. The first item was a presentation on the status of impartial hearings in New York. It was clear from the report presented that New York State has very real challenges on this issue. The following charts (found at: https://www.regents.nysed.gov/common/regents/files/P-12%20-%20Update%20on%20the%20NYC%20Impartial%20Hearing%20System.pdf) provide a framework for understanding the severity of the problem.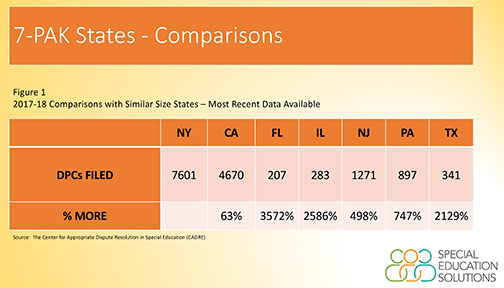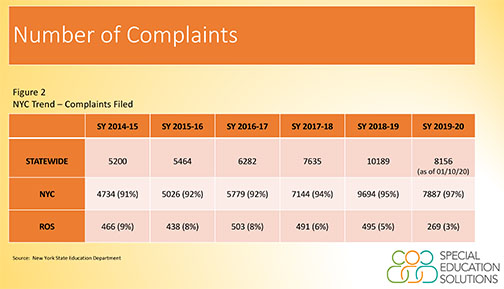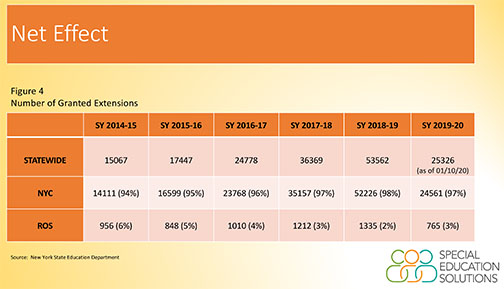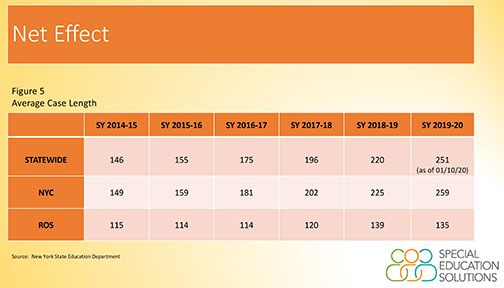 As can be seen on the charts, New York State has more impartial hearings than any other state. Although the problem is NYC centric, districts around face similar challenges. The above graphics highlight an overuse of extensions, delays in hearings, and the extensive amount of special education complaints regarding the provision of special education programs. Contributing to this crisis is a lack of impartial hearing officers (IHOs), insufficient rates for impartial hearing officers, lack of space, and New York's strident regulations. Assistant Commissioner Suriano indicated that a change in the federal law (IDEA) regarding the provision of attorney fees gave impetus for greater attorney involvement. Additionally, NYS has extensive regulatory demands that other states have not required.
Discussion Around the Table
This item was for discussion only with no action needed. The intent of the report was to address a question raised at last month's meeting on how to increase the pool of impartial hearing officers across the state. This report underscored that the challenge facing special education is not just increasing the pool of impartial hearing officers. The report showed that many special education students are in "administrative limbo."
The costs of impartial hearing in NYC is very high.  Over $280 million has been spent on settlements and judgements and not all of these costs are covered using IDEA funding.  New York, in total, only receives $800 million in IDEA funding.
As can be imagined the discussion on this topic was very serious. Possible solutions may include:
• Increased use of negotiations pre-hearing.
• Eliminate thirty-day cap on extensions.
• Require adequate compensation for IHOs.
• Limit number of cases of IHOs.
• Consider how to conduct hearings through remote conferences.
The discussion not only raised possible solutions, but raised serious questions. One area of particular debate was the use of non-attorneys as impartial hearing officers. Although many members initial reaction to this was negative, staff reminded the members that originally, educators could be trained as IHOs and conduct hearings. As this option was discussed more fully, the concept seemed to gain some traction. Please take a moment to complete a one-question survey on whether you would support the use of non-attorneys as impartial hearing officers.
The number of complaints being filed raised the larger question as how to address state's special education issues. The challenges are daunting and are sure to be a focus of the BOR and SED over this year.
The second topic for discussion was a possible change in wording for the classification of emotional disturbance. The presentation by staff was very brief and primarily presented classifications used by other states. Twenty seven states use either the terms emotional disturbance or serious emotional disturbance, twelve states use emotional disability" or "serious emotional disability,"  and other states use variations such as emotional/behavioral disability or disorder, emotional impairment, or behavior disorder.
Discussion Around the Table
The discussion by members of the board signaled a need for more information than had been included in the report. Many members wanted to know what precipitated the item and what evidence or data was available on the need to change the classification. Other members questioned how changing the name would or would not be consistent with term used by professionals in the psychiatric areas.
A point needing further clarification is that the federal and state definitions require that any classification used also meet the criteria that the disability affects the students' learning. Lacking this clarification, the discussion seemed to spread into tangential areas. At the conclusion of the discussion, the board indicated that further information was needed to progress on this topic.
Computer Science Standards
The board conditionally approved the Computer Science and Digital Fluency Standards. This work began when Chapter 56 of the Laws of 2018 was passed and required that SED review the existing framework and develop a new framework. The proposed work reflects much stakeholder feedback, with over 564 comments from the field. The chart below provides a brief summary of the new standards and the full item may be found at: https://www.regents.nysed.gov/common/regents/files/P-12%20-%20NYS%20K-12%20Computer%20Science%20and%20Digital%20Fluency%20Learning%20Standards.pdf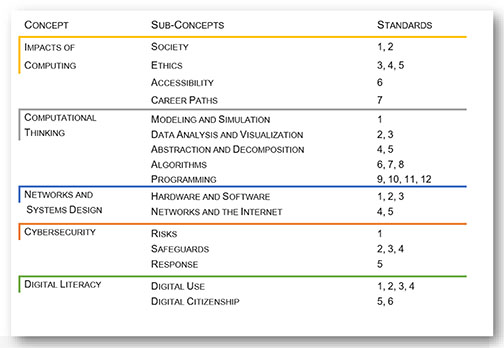 Task Force on Civic Readiness
The presentation to the Board of Regents recommended the addition of a Seal of Civil Readiness. The seal could be used as part of the Humanities pathway or as a stand-alone seal. Students would need to earn points in two areas; civic knowledge and civic readiness (see below):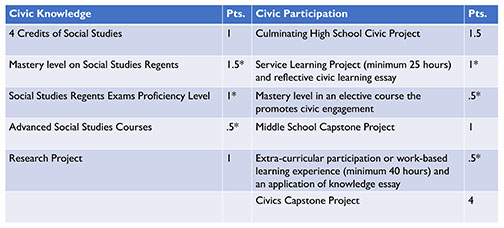 SED will send the draft out for public comment and intend to bring it back to the board in the spring. During the public comment period, staff will work on additional resources and work with stakeholders to possibly establish a pilot program. It is anticipated that the seal will be available for the 2021-22 school year.
A fuller description of this item may be found at: https://www.regents.nysed.gov/common/regents/files/CCCRWG%20-%20Civic%20Readiness%20Initiative%20Presentation.pdf
Committee on Higher Education
Regulations were adopted that provide pathways for subject area certification for teachers of students with disabilities in grades 7-12 who do not hold appropriate subject area certifications. The adopted regulations do the following:
• Add LOTE in either grades 5-9 or 7-12 as eligible for limited extensions and Statements of Continuing Eligibility (SOCE).
• Adds general science eligible for limited extensions and SOCE, and
• Make the list of certificate titles eligible for the three credentials consistent across all regulations and enables teachers holding a certificate in one of the titles and a limited extension in a subject area to be eligible for extension in grade 7-12.
For further information or discussion on any of these items please do not hesitate to contact Cindy Gallagher, director of government relations at cgallagher@saanys.org or by calling 518-782-0600.