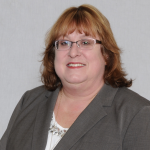 Joyce A. Carr, supervisor of special education and student support services in the Elmira City School District, was inducted as the president of the School Administrators Association of New York State (SAANYS) at its 2017 Annual Conference in Cooperstown on October 22. Carr succeeds Paul Fanuele, executive principal of Arlington High School, and will serve a one-year term.
Carr began her career in school leadership as the assistant middle school principal and CSE (Committee on Special Education) chair in the Owego Apalachin School District. She then began her long career serving the students and families of the Elmira City School District as its assistant special education administrator and CSE chairperson. Carr's dedication and passion for serving the special education population began early in her career at Cortland Jr. /Sr. High School as a special education teacher.
During her 14 year career at Elmira in the CSE department, Carr has been involved in such initiatives as inclusive practices, Positive Behavioral Interventions, therapeutic crisis intervention, the development of the district's Autism program, specially designed instruction, restorative justice, and more.
An active participant and leader of the Elmira Schools Supervisory and Administrative Council, Carr has also been an active member of SAANYS for many years. Prior to becoming president, Carr served on the SAANYS Government Relations Committee and its Board of Directors and Executive Committee.
Carr received her undergraduate degree in special education from Slippery Rock University, her master's degree and school administrator certification from SUNY Cortland, and is currently pursuing her doctorate in special education from Slippery Rock University. Carr is also an adjunct professor at Elmira College.