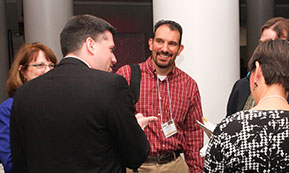 Are you new to the field of school leadership? SAANYS has a number of resources to help you as you take on this very challenging and very rewarding profession. You are encouraged to review the expansive list of benefits available to you as a SAANYS member and stay current and connected with your colleagues through networking, social networking, and professional development opportunities.
7 Tips for Principals Trying to Survive August
Principal Jen Schwanke, author of You're the Principal! Now What? Strategies and Solutions for New School Leaders (ASCD).
NAESP's National Panel of New Principals
NAESP's new principal panel is the first and only national program dedicated to gathering and sharing the experiences of new principals in rural, urban and suburban schools across the country. Visit www.newprincipal.org
Great School Culture: It Starts With the Principal
By Phylis Hoffman for Education Week
Manic May! Tools for Survival!
Amy Fadeji is the principal of Penngrove Elementary in CA.
Tips for First Year Principals: Eight Ways to Make Your Mark
By Carol D. Birks With Judith Richardson for NASSP
You're A Principal, Now What?
Education Week Blog by member Peter DeWitt
The Administrators Handbook, 2nd Edition
This practical and informative text offers answers to those questions that often only experience can answer. On sale now! Just $20 each!
SAANYS Mentor Coach Service: The Roots of Success
A new program from SAANYS and the Magellan Foundation
To support, inspire, and invigorate new and mid-career administrators.
Seniority and Tenure Rights for Part-time Employees
(Acrobat Reader required)
SAANYS News & Notes October 2013
An Open Letter to a New Principal
(Acrobat Reader required)
NAESP Principal Magazine, 2009
First Steps: Sage Advice from Administrators Who Have "Walked the Walk"
SAANYS Vanguard Magazine – Winter 2007
The New Administrator's Toolbox: New Practices & Proven Methods
SAANYS Journal – Winter 2007