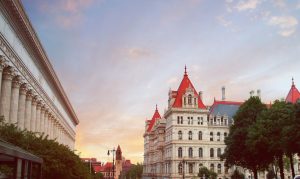 Government Relations Updates
Click on the date to view the complete update.
Senate Hearing: S.1040 – the Solutions, Not Suspensions proposed bill
On May 3, 2023, the Senate held its first of two hearings on S.1040 – the Solutions, Not Suspensions proposed bill. The proposed bill would have a significant impact on building administrators' use of suspensions. SAANYS has been working with many stakeholders on this bill for several years.
The areas of the legislation most problematic for SAANYS members are:
prohibition of the use of suspensions in grades Pre-K-3,
the use of a suspension cap of no more than 20 days,
prohibition of suspensions for acts of willful disobedience,
requirement of districts to use a wide range of interventions or programs available prior to suspending a student, without requiring the participation of the student, or consent from the parent/legal guardian,
lack of funding to meet the requirements of the proposed bill.
Our opposition to these components of the legislation is based on valuable information from our members and our government relations committee. If you recall, SAANYS sent a survey out to all members in December 2022 on this topic. Over 66 percent of the respondents opposed prohibition of suspensions in Pre-K-grade 3, 70 percent opposed a 20-day cap on the days for suspension, and 70 percent opposed prohibition suspension for willful disobedience.
SAANYS is indebted to the presentation of testimony by two of our members: Dr. Gloria Jackson, elementary principal, Brentwood School District and W. Charles Brandy, director of social studies, Buffalo City School District. Their presentations were outstanding and provided the Senate with an excellent perspective on how and when suspensions are used. They pointed out that the first goal is always to keep students in school, they discussed the types of strategies used prior to a suspension being issued, and what specific incidences required the use of suspensions. Dr. Jackson and Mr. Brandy were asked many questions from the senators and again provided compelling information on this topic. Many thanks to Dr. Jackson and Mr. Brandy for their dedicated work on this testimony and their professionalism on this complex issue.
Along with Dr. Jackson and Mr. Brandy's presentations, SAANYS submitted written testimony on suspensions, which can be found here.
The link to the entire hearing may be found at: https://www.nysenate.gov/calendar/public-hearings/may-03-2023/joint-public-hearing-examine-school-policies-related-discipline
Should you have any questions or comments regarding the SAANYS testimony or general comments on this topic, please feel free to contact Cindy Gallagher at cgallagher@saanys.org or by calling 518 782-0600.
April Board of Regents Meeting
Regulations Related to the Initial Provisional Renewal, and Time Extension Requirements

 – NYSED is recommending that changes be made to both provisional and professional certification due to the inability of building administrators and other classification areas to complete requirements in the expected time frames.

Regulations Prohibiting Corporal Punishment

 – The Board of Regents determined that is was necessary to reexamine existing regulations that protected student safety regarding corporal punishment and isolation interventions.
Prohibition of the Use of Indigenous Mascots – The Board unanimously voted to prohibit the use of indigenous names, mascots, and imagery in all public schools. School districts will be required to adhere to this decision by the end of the 2024-25 school year.

Update on Graduation Measures Blue Ribbon Commission

 – As the Blue-Ribbon Commission continues its work, recent focus has been to develop a portrait of a graduate of the 21st century.

New York's Statewide Assessment Strategy

 – The Board of Regents undertook an endeavor to examine the values and purposes of New York's assessment strategy and has been doing that work for over a year.

Four Year Graduation Rates for the 2018 Cohort of Students

 – This group of students entered grade 9 in 2018 and are the cohort that experienced three years of the COVID pandemic and had Regents exams suspended in years 2020-22.
Since last week, over 50 more swatting calls have been made. School districts in Central New York, Long Island, the Southern Tier, Northern Region, and Capital District school districts have been impacted. School districts in other states are reporting similar incidents and the FBI is investigating the sources of the prank calls. Some of the perpetrators are thought to be foreign actors. Please see this 

Statement from Governor Kathy Hochul on Latest School 'Swatting' Threats.
The governor is issuing a budget extender until April 10, which will keep state government operating. It is anticipated that the legislature will approve the extender.

Make it or break it! This spring's district budget choices matter tremendously for the years ahead.

This webinar is conducted by Edunomics Lab which studies education finance out of Georgetown University. This is a 30-minute webinar at 1:00 pm ET on Wednesday April 5 and will focus on key issues facing district budget decisions this spring.

New Report from MHANYS on Supporting a Peaceful and Calm Educational Space

 – the Mental Health Association of New York State released a report looking at wellness spaces across schools in NYS. The report provides information from school districts that have implemented safe spaces for students. Various models and implementation strategies are discussed.
School Safety Memo from Commissioner and NYS Police

–

This past week has seen increased incidents of violence and threats of violence targeted at schools both nationally and in our state.
SAANYS DC Advocacy Day – On March 26-29, 2023, a team of 10 SAANYS members will be headed to Washington, DC to advocate for both federal and state level support and funding important to building leaders across the nation.
This week in Albany was filled with Education Committee meetings and  joint meetings on the one-house bills.
March Board of Regents Meeting
February Board of Regents Meeting
On February 1, 2023, the governor presented her statutorily required proposed budget.This sets in motion a process in which the two houses of the legislature review the proposed budget, propose changes, and then negotiate a final budget. For SAANYS, this also begins the process of analyzing each budget proposal, presenting testimony on how the proposal will impact building administrators, and meeting with legislators to articulate our concerns and/or support. Click here for a summary of the key components of the governor's proposed budget as it pertains to education.

SED PowerPoint on 2018 Cohort

 and 

2018 Cohort Data Posted to NYSED Website

 – SAANYS was informed today by SED that the 2018 Cohort data was posted to their website and they also sent along a PPT that provides an overview of the information.
Results from SAANYS' Membership Survey on School Discipline.
The Board of Regents held its first meeting of 2023 on January 9-10, 2023.
Educator

Certification for Candidates from Another State or Territory of the US or DC

 – The proposal allows a candidate from another US state or territory to receive NYS certification by demonstrating "comparable," instead of equivalent, experiences and education.

Recommendations for Reducing Disparities in and Reforming Discipline

–

SAANYS has participated in the NYS School Safety Task Force since its inception. SAANYS sought the advice of the membership throughout the development this report and SAANYS has in turn expressed the strong concerns of members to the Task Force. SED acknowledged that the report did not have the unanimous support of all Task Force members.

Via this short survey (

click here

)

, SAANYS is seeking member input on these recommendations and strongly urges you to take a few minutes to share your opinions.

 The recommendations made in this report will have longterm impacts on building-level administrators and program directors.
Governor Hochul gave her 

State of the State address

 today, highlighting achievements of the past year and identifying high-priority initiatives.