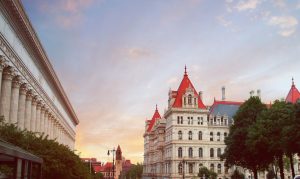 Government Relations Updates
Click on the date to view the complete update.
S.7132-b/A.10018

–

Governor Hochul signed into law,

 

S.7132-b/A.10018

, 

known as Alyssa's Law. This law requires school districts to consider the use of panic alarm systems as part of their safety plans.
• SED Computer Based Testing Memo  
Board of Regents P12 Subcommittee Items:
Higher Education Items:
S.9113-a/A.10502 – The Red Flag Law is expanded to allow multiple categories of mental health practitioners, who have examined an individual within six months, to make a petition to the courts.
S.9458/A.10503 – Bans the sale of semiautomatic rifles to anyone under the age of 21 by requiring a license.
S.9407-b/A.10497 – Prohibits the sale of body vests for anyone not working in an eligible profession.
S.4116-a/A.7926-a – Requires the Division of Criminal Justice Services to examine the technology of micro-stamping for pistols, and if the technology is viable, to require semi-automatic pistols to be micro-stamped-enabled in New York.
S.9456/A.10504 – Expands the definition of a firearm to include any weapon not defined in the Penal Law that is designed to be converted to expel a projectile through the use of an explosive.
S.89-b/A.6716-a – Would also create a crime of making a threat of mass harm.
S.4511-a/A.7865 – Requires social media to provide clear polices on how they respond to incidents of "hateful conduct" on their platforms.
Frequently Asked Questions on Cancellation of Regents Examination in United States History and Government (Framework)
U.S. History and Government Regents exam canceled.
SAANYS Government Relations Committee Meeting with Commissioner Rosa – topics included end-of-year concerns, student mental health, state assessments, and attendance.
E

xecutive

Order 19

– Requires all NYS Police to be trained and instructed on how to file an application for an extreme risk protection order in keeping with the Red Flag Law.

School Districts Approved Smart Schools Plans

– These plans include high-tech security tools, entry control and video systems, and emergency classroom notification systems.

Refresher on the Red Flag Law