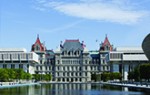 The New York State School Administrators Consortium (NYSSAC), representing the two largest educational administrators associations in New York State, lobbied the offices of Albany lawmakers today. They advocated for pathways to a more considered, effective principal and teacher evaluation system – one that assures the role of building administrators as the instructional leaders of schools and does not hold hostage needed state aid to school districts. SAANYS and NYSFSA representatives met with legislative leaders, including the education committee chairs of both houses.
During the visits school leaders reiterated their support for the recently passed Assembly Bill A.7303-a. The bill contains elements of what NYSSAC views as steps in the development of a more effective APPR system. Specifically, the consortium advocated to: 1) Extend the dates by which the State Board of Regents must enact regulations and districts must implement an APPR system under Section 3012-d. 2) De-link increased state aid from the implementation of Section 3012-d APPR. 3) Ensure that there is an independent assessment of any APPR system with a commitment to necessary adjustments based on such assessment. 4) Make the independent evaluator subcomponent optional for school districts / BOCES.
The last point is a priority for the consortium, and an element that the group would like to see added to the Senate's corresponding APPR bill, S.5124. Administrators stressed that to mandate the assignment of independent evaluators diminishes the ability of a teacher's principal to evaluate performance and provide effective instructional leadership on an ongoing and consistent basis. It is also another unfunded mandate, one that would cause financial and organizational stress.
Said SAANYS Executive Director Kevin Casey, "We have an opportunity here to make important, immediate adjustments to a law that was originally thrown together at the 11th hour then made even worse in this year's budget process. How our schools operate and how we evaluate and support educators requires considerable thought, dialogue, and input from all stakeholders. We will all need to continue to work toward an appropriate evaluation system. Anything less is a disservice to our students and our communities."
Commented NYSFSA Executive Director Peter McNally, "It is time that the entire APPR system is analyzed and evaluated by impartial education experts.  There is no comprehensive research that indicates that this APPR system has positively impacted student achievement."
The New York State School Administrators Consortium (NYSSSAC) represents nearly 23,000 active and retired school principals, assistant principals, supervisors and administrators from every reach of the state. NYSSAC is the collaboration between the New York State Federation of School Administrators (NYSFSA) representing New York City, Yonkers, and the City of Buffalo and the School Administrators Association of New York State (SAANYS), which represents administrators in all other cities and counties in the state.
###