At the April 2015 Board of Regents Meeting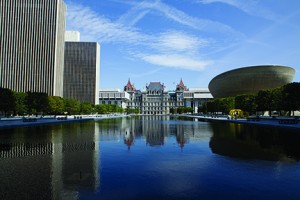 The Board of Regents convened in Albany on April 13 and 14. In attendance were four new members appointed by the legislature in March, with five-year terms beginning April 1. The new members are:
Judith Chin, representing the borough of Queens: Dr. Chin, over the course of a career that spans more than 35 years with the New York City department of education was a teacher, principal, executive director of instruction and professional development, regional superintendent, and supervising superintendent.
Catherine Collins, representing Allegany, Cattaraugus, Chautauqua, Erie, Genesee, Niagara, Orleans, and Wyoming counties: Dr. Collins is trained in vocational technical education and in education administration, and has school administrator experience. She is currently an associate professor at SUNY Empire State College and has two daughters, one of whom is a school administrator.
Judith Johnson, representing Dutchess, Orange, Putnam, Rockland, and Westchester counties: Dr. Johnson served in teaching and leadership positions in seven diverse city and suburban school districts, and has served as superintendent of the Peekskill School District.
Beverly Ouderkirk, representing Clinton, Essex, Franklin, Fulton, Hamilton, Montgomery, St. Lawrence, Saratoga, Schenectady, Warren, and Washington counties: Regent Ouderkirk has held positions as a general and special education teacher, as school principal and Committee on the Handicapped chairperson, and as school superintendent, and district superintendent.
The new members asked questions and contributed information and perspectives throughout the course of the two-day meeting, signaling their intentions to weigh-in on Regents matters in an independent manner.
English Language Learners – At the opening meeting of the full board, information was presented in regard to the 2015-2016 Enacted State Budget. The fiscal item receiving the most discussion was the omission of an allocation to support the provision of educational services to English language learners (ELLs). The State Education Department recommended an allocation of $14.75 million for this purpose, but no funds were allocated. Regents Chancellor Merryl Tisch said, "Instead of this (the provision of services based on the revised Section 154 regulations) being an opportunity, it is turning into a burden – an unfunded mandate." She further intonated that it may be necessary for the board or department to identify possible "efficiencies" to reduce the fiscal impact upon school districts. Regent Betty Rosa also supported the identification of approaches to meet student needs in an efficient manner, but cautioned against signaling any permission to withhold services from students. Regent Roger Tilles pointed out two additional barriers in connection with the provision of services to ELL students, "a dearth of qualified teachers" and fiscal restrictions associated with the property tax cap.
Annual Professional Performance Reviews and SED Capacity – The issue receiving the most overall discussion at the Regents meeting was SED's responsibilities to enact regulations required under The Education Transformation Act of 2015 – also known as the state budget. Regulations must be issued for:
Scoring ranges for the weights among category subcomponents
Parameters for growth for the student performance category
Parameters for supplemental student performance measures
Number, frequency, duration, and parameters of observations
Observation rubrics
Applicability to principals
Waivers for districts to allow a student to be taught by an ineffective teacher for two consecutive years
Note: On Monday, April 27, SAANYS will meet with Acting Commissioner Berlin and other members of the department's leadership team to discuss each of the above items. Also, on May 5, the SAANYS Government Relations Committee will meet with the acting commissioner, the governor's deputy secretary for education, and with members of the state legislature to "tell their story" about the ramifications of the new APPR system in their respective school districts.
At this Board of Regents meeting, information items were expressly focused upon framing the general charge set for SED and Board of Regents for the promulgation of regulations and procedures; there was no discussion of prospective regulatory language to be adopted. Executive Deputy Commissioner Ken Wagner informed the board that necessary regulations are required to be issued (by emergency action) by June 30; however, the Board of Regents meeting is currently scheduled two weeks earlier, on June 15 and 16. Furthermore, in order to receive their allocated state aid increase, each school district must re-negotiate collective bargaining agreements, and receive SED approval of their new APPR plan by November 15, 2015. In light of SED's limited personnel capacity, Mr. Wagner expects that revised APPR plans will need to be submitted to SED in September.
Many Regents members expressed upset with the great magnitude of the charge set for them to accomplish within a too limited timeframe. Regent James Cottrell expressed that, "This is confusing and may harm students. Are there other options – this is so complex." Regent Collins pointed out, "This is a monumental task" and expressed concern about the timeline in light of department capacity. Building on timeline concerns, Regent Johnson said, "…these are important policies that affect children – two months is not enough." Regents Lester Young and Johnson spoke of the need to consult with experts in psychometrics and personnel evaluation; to which the senior deputy commissioner responded that $1 million was appropriated in legislation for this purpose, but two months is not enough time to access the funds and implement the consultation.
Regent Charles Bendit asked, "What happens between June 30 (the due date to promulgate regulations) and November 15 (the date when the new APPR system is required to be implemented in school districts)?" Vice Chancellor Anthony Bottar responded, "Last time, the department was virtually shut down to meet a similar review requirement, by January." Senior Deputy Commissioner Wagner indicated that the department plans to identify "process efficiencies," but Acting Commissioner Elizabeth Berlin interjected, "Last time we had Race to the Top funds to support the reviews, which we do not have this time." Chancellor Tisch said that she is concerned about the timeline: "The department has capacity issues, and districts do too." Perhaps Regent Tilles best summed up the actions to be taken by SED by pointing out the need to establish the new system based upon research and best practices. He pointed out that SED acted in a hasty manner in establishing the current APPR system due to Race to the Top application timelines, and advised against acting too hastily again. Finally, in depicting what is expected to be SED's course of action, he said, "We are willing to work to make it (the APPR system) as good as we can get it; but that doesn't mean that what we will get done will be good."
Sentiments such as those in the above two paragraphs permeated much of the Regents meeting.
NYSED Leadership – Deputy Commissioner Cosimo Tangorra, Jr., who joined the State Education Department in July of 2014, will assume the position of school superintendent of the Niskayuna School District, located in Schenectady, New York, on June 2, 2015. His resignation from the State Education Department will be effective sometime in May, and his participation at the May meeting of the Board of Regents is uncertain.
For more information about the Board of Regents meeting or the provisions of the Education Transformation Act of 2015, contact James Viola, director of government relations at JViola@saanys.org. Any educators or interested citizens wishing to comment upon the new regulations regarding the new APPR system may do so by writing directly to the State Education Department at eval2015@nysed.gov.