2015-2016 State Budget Agreement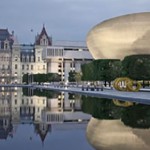 On March 29, Governor Cuomo, and legislative leaders agreed upon a "framework" for the 2015-2016 state budget. Although details continue to be addressed and the budget still needs formal approval by lawmakers, we are writing to provide the following preliminary information, from a number of sources.
School Aid: The Governor's office and Senate Majority Leader Skelos announced a school aid increase of $1.4 billion, while Assembly Speaker Heastie sets the increase between $1.5 and $1.6 billion. No information is currently available regarding the relative amounts to be directed to Foundation Aid and to the reduction of the Gap Elimination Adjustment (GEA). It is possible that school aid runs will be provided later today. The state school aid increase will NOT be held until June 2015.
It should also be noted that the education tax credit sought by Governor Cuomo is not included in the budget.
Annual Professional Performance Reviews: Rather than establish a six-member commission (two appointees by the governor, two appointees by the senate, and two appointees by the assembly) to recommend changes to the APPR system by June 1, the job of revising or developing a new APPR system was assigned to the State Education Department. SED will be required to detail the new system by June 1. (It should be noted, that SED is authorized to promulgate and revise regulations, but any statutory changes will require legislative action.) In turn, school districts will be required to complete necessary negotiations of collective bargaining agreements and submit APPR plans for approval by November.
The State Education Department is further required to complete its assignment regarding APPR revision with the following provisos:
1.) The rating system will be based on observations and testing. Districts will be required to use the state-administered tests, and districts would be authorized to use an additional test that is also designed by the state.
2.) Teachers and principals rated ineffective on the state testing portion of their evaluation would not be able to earn an overall composite rating greater than developing.
3.) Districts may bring disciplinary charges against educators with two consecutive ineffective ratings, and educators would be fired within 90 days unless they can provide clear and convincing evidence why they should not be. Districts could also bring disciplinary charges against educators who have three ineffective ratings, and the educators would be fired within 30 days unless they can prove fraud.
Failing Schools and Districts: Chronically under-performing schools will be required to submit a plan to SED demonstrating how their performance will improve. Upon approval, schools that have posted poor outcomes for 10 years or more will be allocated additional aid with the expectation that in one year there will be "demonstrable progress" before being subject to state takeover. If there is no demonstrable progress, the school will go into receivership. Schools that have been struggling for at least three years will have two years to improve.
Probation and Tenure: Information in this areas remains inconsistent.