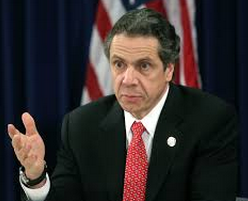 At 12:45pm today, Governor Andrew Cuomo delivered his State of the State Address and proposed Executive Budget for 2016-17. SAANYS gives a thumbs down to Governor Cuomo's proposed Executive Budget for school operating aid. Here are five reasons why:
The governor proposes to increase state aid by $2.1 billion – over two years – with a $991 million increase in 2016-17. This is unacceptable. SAANYS, as well as other educational organizations and the State Education Department are all calling for an increase of at least $2.2 billion for one year, 2016-17. In fact, it is estimated that $1.7 billion is needed in 2016-17 just to continue current school programs.

The governor calls for the end of the gap elimination adjustment (GEA) – over two years – by 2018. For 2016-17, $189 million would be directed to the GEA. SAANYS supports the state senate in asserting that the GEA should end in 2016-17 – this reduction is state fiscal support must end now.

The governor never mentioned foundation aid, but his budget includes a foundation aid increase of $266 million. SAANYS asserts that the foundation aid formula should be meaningfully increased for 2016-17 – this is fiscal support that is owed.

Several times during the address, the property tax cap was heralded as a success, and no revisions are apparently contemplated – including for 2016-17 when the cap will be approximately zero percent (0%). If needed and appropriate adjustments are not made to the property tax cap methodology, then more state school aid is essential.

The governor proposes a $1 million appropriation to create a commission to develop a blueprint for a constitutional convention. SAANYS has strong reservations about this allocation and the advisability of holding a constitutional convention. It is our recollection that when the governor first ran for office, his platform included a constitutional convention, and that one of the express purposes of the convention was to review and possibly amend provisions related to individuals already receiving education pensions.   




We are scheduled to meet with the governor's office on January 14 (tomorrow) and we will provide a more complete analysis soon.