The SAANYS Government Relations Committee (GRC) includes two members from each of the twelve SAANYS regions. Each year, meetings are held in November, March, and May. These months are chosen for strategic reasons that maximize efforts to promote priority issues with the commissioner of education, governor, and legislature.
The November meeting of the GRC (see below for a list of members) was a particularly full two days. During the first day of preparation for meetings with the commissioner, governor's office, and legislature we heard presentations from the Secret Service on threat identification, updates from the New York State Teachers' Retirement System (NYSTRS), and Kevin Banes (Statewide Pubic Affairs, Inc.) provided an update on the recent elections and impact on the work of  the GRC.
SAANYS Government Relations Committee Members:
  Rebecca Boyle – Rochester City SD
  Coretta Bridges – Rochester City SD
  Charles Galluzzo – Williamsville CSD
  Timothy Heller – Groton CSD
  Jennifer King-Reese – Syracuse City SD
  James Knight – Malone CSD
  Joseph Mazzetti – Poughkeepsie City SD
  Bernard McDermott – Chenango Forks CSD
  Jen McDonald – Mount Markham CSD
  Michael Mosca – Islip UFSD
  Veronica Puglisi – Victor CSD
  Joseph Rainis – Lynbrook SD
  David Richardson – Greece CSD
  Joan Rosenberg – Jericho UFSD
  Sagrario Rudecindo-O'Neill – Washingtonville CSD
  Chris Sanita – Guilderland CSD
  Duane Smith – Byram Hills CSD
  Amy St. Croix – Alexandria CSD
  Felicia Thomas-Williams – Brentwood UFSD
  Mary Tomaso – Herkimer CSD
  Charles Wheeler – Broome-Tioga BOCES
  Bryan Wood – Cohoes City SD
  Nathan Work – Pembroke CSD
  Marystephanie Corsones – Retiree Representative
  Fred Kirsch – Retiree Representative
  Maureen Patterson – Retiree Representative
  Robert Thomann – Retiree Representative
  Bonnie Tryon – Retiree Representative
The presentation by Special Agent Lewis Robinson provided information on a training program developed by the Secret Service National Threat Assessment Center. The training is available to school districts and provides an overview of areas that schools should consider examining. Their Operational Guide may be used to assist conversations about establishing a targeted violence prevention plan. The Center will conduct training and resources may be found at www.secretservice.gov. The GRC was interested in learning about this information in order to frame conversations on school safety in meetings with the legislature and develop possible recommendations for legislative initiatives.
Information from representatives of the NYSTRS provided updates on employer contribution rates, stability of the fund, and challenges of certain administrative titles on retirement benefits. The GRC was interested in this information in order to begin to frame possible SAANYS legislative priorities in regard to increasing the first salary level used for COLAS, as well as increases to the maximum earned salaries of retired members.
Lastly, an update by Kevin Banes provided a comprehensive review of key legislative wins and losses, and possible impact on our legislative actions. Democratic wins in both houses may provide opportunities that have not presented themselves during the past few years. For example, we will closely watch appointments to key committees such as Education, Ways and Means, Health, and Higher Education.
The second day of the meeting was a very full day of discussions with the commissioner and senior managers, staff from the governor's office, and legislative staff. The meeting with the commissioner included robust discussions on preschool education (in particular the challenges emerging as districts struggle with providing increased evaluations), complexities of multiple pathways for granting diplomas, new curriculum roll outs, recommendations from the Early Childhood Blue Ribbon Panel, and information on Safe and Supportive Technical Assistance Centers. These conversations are useful as the GRC considers strategies for advocating for full-day kindergarten, lowering of compulsory age, increased funding for school safety, and expansion of mental heath services in schools.
The primary focus of the meeting with the governor's office was to express our strong support of S.6090/A.8108, which proposes to reduce the probationary tenure period from four to three years for administrators moving to a new position who have been granted prior tenure. This bill has passed both houses and is awaiting action by the governor. Opposition to this bill has been focused on the effective date and projected difficulty with tenure decisions on the part of superintendents and boards of education. GRC members provided strong justification that such challenges were not valid as such administrators have already been granted tenure and are well-known to the district through the probationary period that has already transpired. In addition to probationary tenure, challenges for schools, the legalization of marijuana, and the need for professional development funding for building administrators were discussed.
Lastly, meetings with members of the Assembly Education Committee were scheduled and held. Each of these meetings reinforced many of the issues discussed above and our legislative requests used during the most recent legislative session. The talking points used as the basis for these meetings are noted below.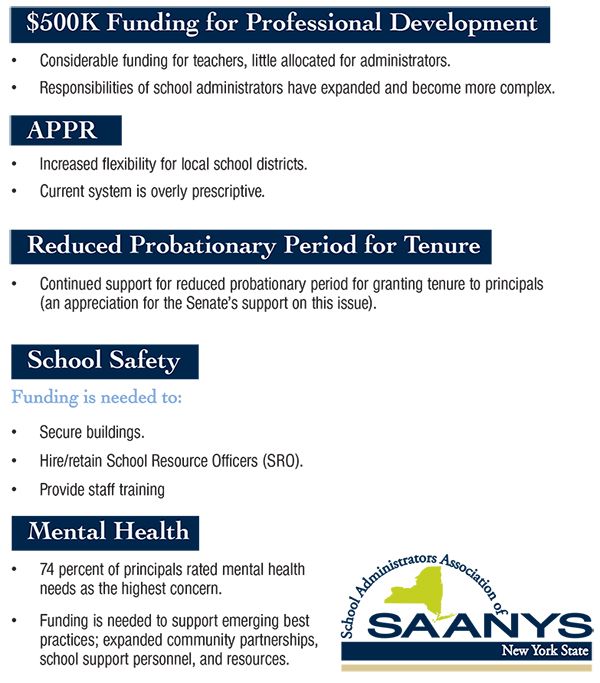 For any further information on any of these issues, please do not hesitate to contact Cindy Gallagher at cgallagher@saanys.org or by calling (518) 782-0600.