SAANYS Position Statement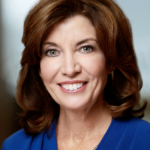 SAANYS was pleased to hear Governor Hochul emphasize her continued commitment to ensuring that all students have a "good, quality, education" in today's state budget presentation. SAANYS agrees with the governor that our students have been "through too much over the past few years" and that we have a great responsibility to make our students whole.
Regarding the governor's education budget priorities, SAANYS applauds the proposed 10 percent ($34.5 billion total) increase in state aid to schools, which is inclusive of a $2.7 billion increase in Foundation Aid to achieve its full phase-in. SAANYS also supports the governor's commitment to increasing funding for school-based mental health care; securing insurance coverage for mental health programs and services; and funding to expand prekindergarten and corresponding funding for childcare.
However, SAANYS is disappointed that the governor has not included additional state funding to provide universal meals for all students. Commented SAANYS Executive Director Kevin Casey, "Assuring all students are provided with healthy school meals is at the core of preparing young people to succeed and thrive at school. No student should go through the day hungry or anxious about accessing their next meal. Providing universal school meals is a commonsense way to fully support our students and families, especially during these difficult economic times."
Education highlights in Hochul's budget proposals for education per Politico
Allocate $250 million of foundation aid to create "high impact" tutoring programs to address learning loss for students grades 3-8 in reading and math.
Establish early college high school and P-TECH programs with $20 million in grant funding.
Develop a high school-college workforce pipeline with $10 million over two years.
Increase foundation aid by 12.8 percent.
Dedicate $250 million of foundation aid to tutoring programs.
Reimburse $232 million in expense-based aid for schools.
Provide $193 million for non-public schools to cover costs accrued by state mandates.
Eliminate the regional cap on charter schools and increase funding for New York City charters by 4.5 percent per pupil.
Click here for an overall overview of the governor's budget proposals from the Albany Times Union.