Application deadline extended to May 15!
SAANYS 2020 Retiree Student Scholarships
Application Deadline: 11:59pm, May 15, 2020
Access the online application form.
Download the MSWord application form.
Open to any high school senior graduating in June 2020. By completing the information required on the application, the student will enable the committee to determine eligibility to receive funds provided specifically to help high school students graduating in June of 2020. Students must have demonstrated good school and community citizenship, are planning to go on to higher education, and who otherwise satisfy criteria by the SAANYS Retiree Scholarship committee. Students are responsible for seeing that the application is accurately and completely filled out. Be sure to collect all supporting documents before beginning the application. Applicants must sign into their Google account in order to upload supporting documents via the online application form (transcript and two letters of reference). The SAANYS Retiree Board reserves the right to not process applications found to be incomplete as of the application deadline.
PLEASE NOTE: Applicants must be sponsored by a current SAANYS Active Retiree, Affiliate Retiree, or Associate Retiree member in good standing. For purposes of this scholarship, regular Active SAANYS members listed as a sponsor shall not be considered.
SAANYS Retiree Scholarship – Frequently Asked Questions (FAQ)
Q. Who is eligible to nominate a student for this scholarship?
A. All SAANYS Retiree Members in good standing paying dues at the following 3 membership levels: Retiree Active, Retiree Affiliate, Retiree Associate.
Q. I'm an active SAANYS member.  Can I nominate someone?
A. No, however SAANYS allocates scholarship money for each region annually. Contact your Regional Representative for details about the SAANYS Scholarship opportunities in your region. THIS SCHOLARSHIP REQUIRES NOMINATION BY A DUES PAYING RETIREE ACTIVE, RETIREE AFFILIATE, OR RETIREE ASSOCIATE MEMBERS ONLY!
Q. How long has SAANYS been offering a Retiree Member Scholarship?
A. This is the second year of this scholarship.
Q. How many students will be selected and what is the value of the scholarship?
A. SAANYS has allocated $2000 for the Retiree Scholarship. The selection committee anticipates selecting 2-4 scholarship recipients from the applicant pool.  Therefore, we anticipate awards between $500-$1000 each.
Q. Which students are eligible?
A. A student graduating from a New York State Public High School and enrolling in an accredited College or University (in or out of state).
Q. Does the student have to be enrolling in or majoring in a program related to education or teacher preparation?
A. No.
Q. The application asks for standardized test scores.  I took the SAT but not the ACT.  Do I have to take the ACT to be considered for this scholarship?
A. No. If you took a college entrance exam (SAT, ACT, other) please list the scores. If you did not take one or more of the exams leave blank or write N/A.  The application is reviewed as a comprehensive document.  No one area is considered more important.
Q. When will the recipients be notified?
A. We anticipate by early June sometime.
Q. I was a SAANYS member but let my membership lapse when I retired. Can I rejoin SAANYS?
A. Yes. Please contact the membership office at SAANYS at 518-782-0600 or visit www.saanys.org
Q. Can I submit a paper form? 
A. Yes, please mail your application, postmarked no later than May 15, to Dr. Frederick P. Kirsch, 117 Broadmoor Lane, Rotonda West, FL 33947.
Q. Can I submit my application and update it later to add the supporting documents (transcript, two letters of reference – one of which must be from sponsor)? 
A. No, all supporting documents MUST be submitted at the time you fill in the application – either electronically or by mail. You must log into your Google account in order to upload supporting documents if using the online submission form.
Q. What is the application deadline?
A. 11:59pm, May 15, 2020
Q. What if I have questions that don't appear here?
A. Feel free to email Dr. Frederick Kirsch, Retiree Advisory Board Member at fkirsch@windstream.net
---
Whether plans include traveling the country, starting a business, or continuing in the field of education, SAANYS has multiple resources to support your dreams. Click here to download the SAANYS Retirement Brochure.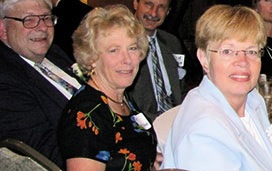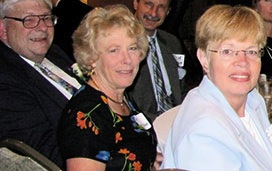 Review the various levels of membership available to retirees at the bottom of this page.
News and Resources for Retirees
Health Insurance Victory for Retiree Member
Financial Planning and Related Insurances Offered Through AXA Equitable
Members can receive competitive rates on life, disability, long-term care, and more. In addition, a full array of retirement services is available, including a complimentary financial profile and comprehensive financial planning services. Here is a sample of the financial profile you could receive by taking advantage of this valuable member benefit.
Visit AXA to learn more,  or use the dedicated SAANYS member line by calling: 1-866-401-3030, option 8.
Abenity Travel Center
A feature of the Abenity Member Discount Program
Save on airfare, hotels, car rentals, cruises, and more
SAANYS Personal Legal Plan
Includes a simple will, a power of attorney, a living will, a health care proxy, + more
OPWDD's Senior Companion Program
The New York State Office for People With Developmental Disabilities's (OPWDD) Senior Companion Program is an outstanding program that partners New York State seniors with adults with developmental disabilities.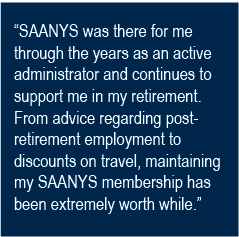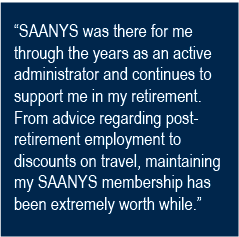 Battleground: Retirement Health Insurance
A Big Victory for SAANYS Retirees
Retiree Committee
Name: Bob Allen
Title: Committee Member, Syracuse City
Email: daisyallen@msn.com
Phone: (315) 727-4974
Name: Howard Bernstein
Title: Committee Member, Region 2
Email: berny212@aol.com
Phone: (516) 377-1271
Name: Donald Brunswick
Title: Committee Member, Region 9
Email: djbrunswick@tds.net
Phone: (607) 655-2400
Name: David Dudgeon
Title: Committee Member, Region 8
Email: ddudgeon@twcny.rr.com
Phone: (315) 866-7578
Name: W. Bruce Gorman
Title: Committee Member, Region 11
Email: wbruce.gorman@gmail.com
Phone: (585) 244-2387
Name: Harry LeFevre
Title: Committee Member, Region 5
Email: hflefevre@gmail.com
Phone: (845) 429-6504
Name: Paul Lindsley
Title: Committee Member, Rochester City
Email: PFLindsley@aol.com
Phone: (585) 752-6276
Name: Joe Longobardi
Title: Committee Member, Region 4
Email: jlongobard@aol.com
Phone: (914) 245-7648
Name: Doug Regan
Title: Committee Member, Region 12
Email: DJRegan13@hotmail.com
Phone: (716) 626-0980
Name: Dominick Sabatino
Title: Committee Member, Region 10
Email: domjoanne@aol.com
Phone: (315) 468-1551
Name: Vince Veglia
Title: Committee Member, Region 1
Email: vinceveglia@gmail.com
Phone: (631) 928-0108
Name:
Title: Committee Member, Region 7
Email:
Phone: