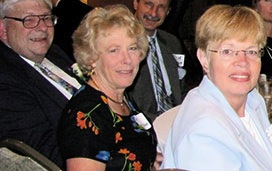 Whether plans include traveling the country, starting a business, or continuing in the field of education, SAANYS has multiple resources to support your dreams. Click here to download the SAANYS Retirement Brochure.
Review the various levels of membership available to retirees at the bottom of this page.
SAANYS 2019 Retiree Student Scholarships
Open to any high school senior graduating in June 2019. Applicants must be sponsored by a current SAANYS active retiree, affiliate retiree, or associate retiree member in good standing. Students must have demonstrated good school and community citizenship, are planning to go on to higher education, and who otherwise satisfy criteria by the SAANYS Retiree Scholarship committee. Students are responsible for seeing that the forms are accurately and completely filled out. The SAANYS Retiree Board reserves the right to not process applications found to be incomplete as of the application deadline.
Application Deadline: April 1, 2019

Access the online application form here.
Download the MSWord application form here.
Download the FAQ (Frequently Asked Questions) here.
News and Resources for Retirees
Health Insurance Victory for Retiree Member
Financial Planning and Related Insurances Offered Through AXA Equitable
Members can receive competitive rates on life, disability, long-term care, and more. In addition, a full array of retirement services is available, including a complimentary financial profile and comprehensive financial planning services. Here is a sample of the financial profile you could receive by taking advantage of this valuable member benefit.
Visit AXA to learn more,  or use the dedicated SAANYS member line by calling: 1-866-401-3030, option 8.
Abenity Travel Center
A feature of the Abenity Member Discount Program
Save on airfare, hotels, car rentals, cruises, and more
SAANYS Personal Legal Plan
Includes a simple will, a power of attorney, a living will, a health care proxy, + more
OPWDD's Senior Companion Program
The New York State Office for People With Developmental Disabilities's (OPWDD) Senior Companion Program is an outstanding program that partners New York State seniors with adults with developmental disabilities.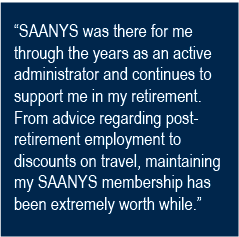 Battleground: Retirement Health Insurance
A Big Victory for SAANYS Retirees
Retiree Committee
Name: Bob Allen
Title: Committee Member, Syracuse City
Email: daisyallen@msn.com
Phone: (315) 727-4974
Name: Howard Bernstein
Title: Committee Member, Region 2
Email: berny212@aol.com
Phone: (516) 377-1271
Name: Donald Brunswick
Title: Committee Member, Region 9
Email: djbrunswick@tds.net
Phone: (607) 655-2400
Name: David Dudgeon
Title: Committee Member, Region 8
Email: ddudgeon@twcny.rr.com
Phone: (315) 866-7578
Name: W. Bruce Gorman
Title: Committee Member, Region 11
Email: wbruce.gorman@gmail.com
Phone: (585) 244-2387
Name: Harry LeFevre
Title: Committee Member, Region 5
Email: hflefevre@gmail.com
Phone: (845) 429-6504
Name: Paul Lindsley
Title: Committee Member, Rochester City
Email: PFLindsley@aol.com
Phone: (585) 752-6276
Name: Joe Longobardi
Title: Committee Member, Region 4
Email: jlongobard@aol.com
Phone: (914) 245-7648
Name: Doug Regan
Title: Committee Member, Region 12
Email: DJRegan13@hotmail.com
Phone: (716) 626-0980
Name: Dominick Sabatino
Title: Committee Member, Region 10
Email: domjoanne@aol.com
Phone: (315) 468-1551
Name: Vince Veglia
Title: Committee Member, Region 1
Email: vinceveglia@gmail.com
Phone: (631) 928-0108
Name:
Title: Committee Member, Region 7
Email:
Phone: