New Guidelines for Educational Leaders
The Principal Preparation Project Advisory Team was created by SED to make recommendations to a new set of standards for school leaders. SAANYS was a very active member of this team, and the team recommended on Tuesday that the Board of Regents adopt the standards. The team also recommended making initial principal certification competency-based, exploring opportunities to create full-time school-based internships for aspiring principals, providing increased coaching and mentoring, and providing incentives for P-20 partnerships. Read the recommendations here.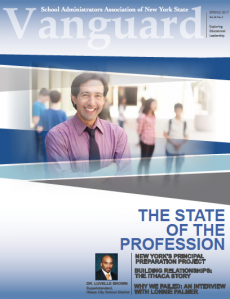 SAANYS has submitted comments regarding the final recommendations from the Principal Preparation Project Advisory Team. In the letter, Executive Director Kevin Casey suggests, "The important work of the Advisory Team, and others, may need to continue before action is taken on recommendations." Read SAANYS' full response here.
Also read the recent Vanguard feature about the work of the Advisory Team here.