Top Youth Volunteers in Each State Selected in 21st Annual Prudential Spirit of Community Awards
102 student volunteers earn $1000 awards, silver medallions and a trip to the nation's capital.
Some helped the homeless. Others created programs and opportunities for people with disabilities. Many collected books to ensure that all kids can develop a love of reading. Those are just some of the stories of the 102 youth volunteers – two from each state and the District of Columbia – who were named state honorees by the Prudential Spirit of Community Awards, a nationwide program honoring students in grades 5-12 for outstanding volunteer service. The awards program, now in its 21st year, is conducted by Prudential Financial in partnership with the National Association of Secondary School Principals (NASSP).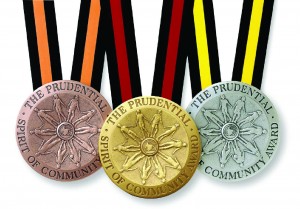 Each of the 102 state honorees will receive $1,000, an engraved silver medallion and an all-expense-paid trip in early May to Washington, D.C. for four days of national recognition events. During the trip, 10 of them will be named America's top youth volunteers of 2016.
In addition to the state honorees, the program's judges recognized 234 students nationwide as distinguished finalists for their impressive community service activities. Each will receive an engraved bronze medallion. More than 500 other applicants were awarded Certificates of Excellence for their volunteer work.
Many of this year's state honorees and distinguished finalists were recognized for comforting sick kids through measures that ranged from raising money to start a music therapy program for premature infants to providing gaming consoles to children's hospitals. Several led efforts to combat bullying, support students in crisis, and raise awareness about suicide. A number of these top youth volunteers worked to ensure that their food-insecure peers had enough to eat outside of school, and many more raised money for research into cancer, diabetes and other illnesses.
View the list of honorees and read the full press release here.