SAANYS Member Named to National Assessment Governing Board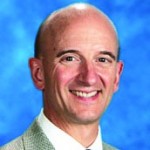 Paul Gasparini, principal of Jamesville-DeWitt High School in Dewitt has been appointed as one of five leaders from around the country to the National Assessment Governing Board to serve four-year terms, U.S. Secretary of Education Betsy DeVos has announced. Gasparini was a long-time member of the SAANYS Government Relations Committee and was the recipient of the 2012 New York State High School Principal of the Year award.
The appointees will help set policy for the National Assessment of Educational Progress (NAEP), also known as the Nation's Report Card. NAEP offers to the public and to education policymakers at the national, state and local levels, objective data on student performance in nearly a dozen subjects. The information NAEP provides helps education stakeholders evaluate the progress of American education. The 26-member nonpartisan, independent Governing Board determines the subjects and content of NAEP tests, sets the achievement levels for reporting and publicly releases the results.
"I'm pleased to welcome this diverse group of leaders from across the country to the National Assessment Governing Board," Secretary DeVos said. "The board plays an important role in assessing student achievement, and I am confident that their collective experience will be a valuable asset as we work to ensure that all students have equal access to a great education that gives them the opportunity to reach their fullest potential." Read more here.