SAANYS Fights for Blue Ribbon Schools Despite Opt-outs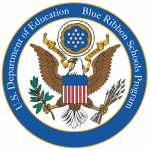 After zealous lobbying and communication efforts with the US Department of Education, lead by Jim Viola, SAANYS director of government relations, it appears that adjustments to the Blue Ribbon Schools selection process are under way.
As previously reported by SAANYS, 12 schools were notified by the US Department of Education that their Blue Ribbon applications were successful, and that the only remaining criterion for recognition was certification by the New York State Education Department (SED) that AMO/AYP requirements have been met for 2014-15. Unfortunately, due to spikes in student opt-out rates on state exams, these schools did not achieve the required 95 percent participation rate for AMO/AYP. SAANYS pursued the issue with SED and was informed that there was little or no possibility that the 95 percent requirement would be waived or adjusted.
SAANYS pressed further, lobbying the issue with members of congress in Washington, DC and having extensive communications with Aba Kumi, director of the National Blue Ribbon Schools Program. On July 9, Kumi communicated to Viola that the US Department of Education would accept SAANYS' recommendation to allow for an anomaly waiver considering the participation rates for previous years, compared to the participation rate for 2015. This was excellent news for these well-deserving schools.
However, some critical details remain before all 12 of these schools can achieve Blue Ribbon status: 1) clarification is needed on the number of previous years that can be substituted or averaged in the calculation to achieve a participation rate of at least 95 percent, and 2) SED must adopt this policy revision. Based on a July 8 meeting with Commissioner MaryEllen Elia and Executive Director Kevin Casey, Deputy Executive Director Don Nickson, and Jim Viola, SAANYS is optimistic that the commissioner will favorably consider such adoption. Watch for further updates on this issue.