Report: Principal Pipelines Benefit Students, Reduce Principal Turnover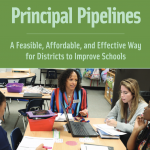 Districts can improve schools – including boosting student achievement in reading and math – by better preparing, selecting, evaluating, and supporting principals, according to a new RAND Corporation report.
The study examined how six large urban school districts implemented a concept called "principal pipelines," a strategic approach to the hiring, preparation, evaluation, and support of school leaders, and how it improved an array of outcomes. The Wallace Foundation funded the $85 million, six-year initiative.
"Our study provides compelling evidence that when districts set clear leadership expectations and used those standards to hire, develop, and support strong leaders, then principals, schools, and students benefited," said Susan Gates, lead researcher on the report, Principal Pipelines: A Feasible, Affordable, and Effective Way to Improve Schools. "The positive effects were remarkably widespread across grade levels and across districts."
Learn more at: https://bit.ly/2Z0kPPM