Probationary Tenure Bill Passed by Both Houses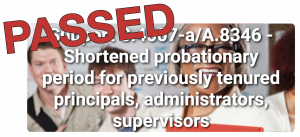 The New York State Assembly has just passed A.8346, providing school administrators, transitioning to a new position, a reduced probationary period of three years, instead of the currently mandated four years. The bill was sponsored by Assemblyman Michael Benedetto and previously passed the Senate in May under the sponsorship of Shelley Mayer, chair of the Senate Committee on Education. The bill now moves to the governor's desk.
The bill is specific to administrators who have been granted tenure in a previous school district, the current school district of employment, or a BOCES. If signed, the act would take effect June 1, 2020 and shall only apply to individuals beginning their probationary periods on or after the effective date and does not apply unless previously tenured as an administrator (not as a teacher). It would apply to those previously tenured in any administrative area.
SAANYS and its members have lobbied vigorously for the passage of this legislation, noting equity, as currently a three-year probationary period is allowable for teachers under similar situations. In addition, SAANYS advocated its necessity as the pipeline for school leaders decreases. Read the legislation here.