SAANYS Goes to Washington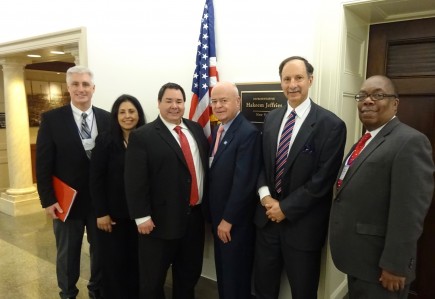 The National Association of Elementary School Principals (NAESP) convened the National Leaders Conference in Washington DC on March 13 to 15. The conference culminated with a federal lobby day, for which SAANYS assembled a team of six members, representing SAANYS and the New York City Council of School Supervisors and Administrators (CSA):
SAANYS members included:
John McKenna, President of SAANYS Board of Directors; Principal, Fletcher Elementary School, Tonawanda, NY
Thomas Payton, SAANYS delegate to NAESP; Principal, Roanoke Avenue Elementary School, Suffolk, NY
Jim Viola, Director of Government Relations, School Administrators Association of NYS
CSA members included:
Lizabeth Caraballo-Suarez, President of NYC Elementary School Principals Association; Principal, PS 120 Carlos Tapia, Brooklyn, NY
Pierre Lehmuller, Executive Director, NYC Elementary School Principals Association
Herman Merritt, Political Affairs Director, NYC Council of School Supervisors and Administrators
The New York team had a very full schedule of meetings with the following members (and staff) of our national delegation:
Senator Charles Schumer
Senator Kirsten Gillibrand
Congressman Brian Higgins, District 26 – Erie, Niagara
Congressman Hakeem Jeffries, District 8 – Queens, Kings
Congressman Gregory Meeks, District 5 – Nassau, Queens
Congresswoman Elise Stefanik, District 21 – Clinton, Essex, Franklin, Fulton, Hamilton, Herkimer, Jefferson, Lewis, St. Lawrence, Saratoga, Warren, Washington
Congresswoman Nydia Velazquez, District 7 – Kings, New York, Queens
Congressman Lee Zeldin, District 1 – Suffolk
A full slate of issues was discussed with each representative. However, the primary issues discussed were funding for the Every Student Succeeds Act (ESSA) Title programs, emphasizing the need for additional funds for student services such as English Learners and Immigrant Students; and opposing the allocation of funds to competitive grant programs, such as the $1 billion recommended by Education Secretary John King, to increase salaries for effective teachers.
The lobby team encouraged federal delegation support of the application to be submitted by the New York State Education Department under Section §1204, Innovative Assessment and Accountability Demonstration program to implement less intrusive, more effective approaches for student evaluation. The team also argued against any further expansion of charter schools or the diversion of fiscal resources to support charter schools; but the team did support the School Leader Recruitment and Support Program.
For more information regarding the NAESP National Leaders Conference and the meetings with New York State's federal delegation, contact James Viola, Director of Government Relations at JViola@saanys.org