SAANYS Supports Governor's Broadband Internet Proposal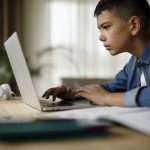 SAANYS released a press statement this week expressing that SAANYS shares Governor Cuomo's concerns regarding access for all to broadband Internet. SAANYS was pleased to hear the governor place this item as a priority, as it so directly impacts the educational opportunities for many K-12 students around New York State during this pandemic and beyond.
Commented SAANYS Executive Director Kevin Casey, "The governor's Internet access proposal is laudable and needed. We have heard too many stories of students having to travel to parking lots and commercial properties just to be able to attend school that day. The plan to make high-speed service affordable for low-income households will benefit students today and into the future, as virtual learning increasingly becomes part of the educational paradigm."
SAANYS does caution that although efforts have been made to address infrastructure for Internet access, gaps remain in some areas, affecting thousands of school children. Continued work with providers is needed to ensure that standards and quality are consistent across the state.
SAANYS represents over 7,900 school administrators, supervisors, and coordinators. As a professional association, SAANYS is committed to providing direction, service, and support to the membership in their efforts to improve the quality of education and leadership in New York State schools. SAANYS is affiliated with the National Association of Elementary School Principals (NAESP) and the National Association of Secondary School Principals (NASSP).
###