SAANYS Partners with NYS Office of Children and Family Services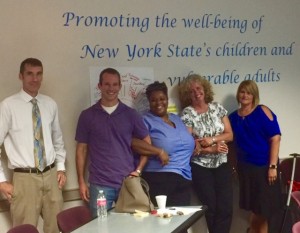 SAANYS is honored to have a new professional learning partner. The Office of Children and Family Services (OCFS) reached out to SAANYS to develop a professional series that would address the many and varied needs of their school leaders.
OCFS operates a residential care system consisting of twelve facilities in five regions of New York State, from Long Island to Buffalo, for youth placed in the custody of OCFS by family and criminal courts. The facilities include a reception center, four secure facilities, five limited secure facilities and two non-secure facilities, with leadership roles ranging from educational supervisors, directors, coordinators, and vocational specialists.
I must say that when Tim Bromirski, director of the Bureau of Education and Transition Services (BETS) first reached out to me about a professional series, it was difficult to envision the content that would be most meaningful to a group with such a different set of challenges and a delivery system that would work for small clusters of leaders spread far apart all across the state. The overarching goal of the series was to meet the request of this group of educators for professional learning that worked for them.
Now, we are proud to say that the OCFS ProSeries is well on its way after a successful kick off with the entire group of thirty or so leaders in Rensselaer in late September.   Although there is no question that OCFS leaders and teachers face unique challenges (here's one: "How do you motivate a student who is looking at life in prison?") there are also many questions and challenges that face the rest of us who live in more traditional educational settings:  "How do we form professional learning networks so we don't feel so isolated from our colleagues?"  "How can we differentiate learning for students with widely divergent skills and abilities?" "How can I be an effective and supportive coach to my teachers?"
Working from the feedback and topic interest survey from the kickoff session, Tim and I are now developing next steps that will weave into an ongoing professional series over the coming school year. In addition to face-to-face sessions, which are only possible at certain times during the year when the group comes together in the Capital District, other hybrid options like book studies, ZOOM groups, and cluster groups in different regions of the state are all being explored. I feel very fortunate to be working with such a dedicated and highly skilled group of school leaders who face challenges every day that many of us can find hard to imagine.