SAANYS Government Relations Committee Lobbies NYS Legislature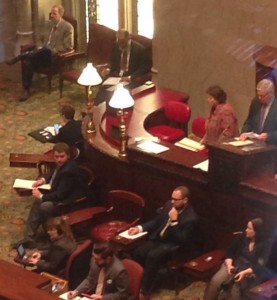 On March 9, four teams of school leaders from the SAANYS Government Relations Committee lobbied 16 legislators. Ranking and minority members, and legislators of both the senate and assembly were included in our meetings. Discussions focused on the proposed Executive Budget and its potential impact on districts.
The high priority items discussed were:
Adjust Tax Cap
• Increase the  tax cap to a fixed 2 percent or the greater of the tax cap or CPI.
Foundation Aid
• Do not repeal the foundation  formula.
• Restart 2006 formula.
State Aid Allocation Increase to $2 Billion to Support
• Increased numbers and needs of ELL students.
• Increased access to CTE programs so that all students graduate prepared for careers.
• Rising costs to school districts -– salaries, health insurance, and non-personnel costs.
• $100 million for pre-kindergarten expansion.
• Kindergarten requirement.
• $30 million for school leader professional development.
As time permitted, items related to the NYS ESSA State Plan were also discussed. Our members advocated for a State Plan that :
• Ensures  that 3 percent of the Title IIA funding is targeted to professional development for school leaders is consistent with current law and regulation.
• Provides increased flexibility provided to persistently struggling schools who are unable to sustain constant demands from accountability reform.
Overall, the discussions were very productive, with most legislators indicating support for an increased amount of state aid over the amount proposed in the Executive Budget. Additionally, there seemed to be a  favorable response for maintaining a predictable foundation formula  for generating state aid to districts.
Following meetings with the legislators, the Government Relations Committee team met with Commissioner Elia and staff for approximately two hours. The commissioner was very gracious with her time and was committed to discussing many items with the group. The range of issues included: services for ELL students, pre-kindergarten, ESSA, curriculum updates, computer-based testing, and VADIR/DASA. SAANYS members provided excellent examples of district successes and articulated current challenges for administrators.
Many thanks to the GRC members for their time and commitment to making sure that important perspectives school leaders is thoughtful, insightful and very well articulated.
Current members of SAANYS' Government Relations Committee are:
  – Rebecca Boyle, Rochester CSD
  – Marystephanie Corsones, At Large
  – Chuck Galluzzo, At Large
  – Paul Gasparini, Central NY RIC
  – Fred Kirsch, At Large
  – Russ Kissinger, Mount Markham
  – Richard Loeschner, Brentwood CSD
  – Maureen Patterson, At Large
  – Joe Mazzetti, Poughkeepsie CSD
  – Bernie McDermott, Chenango Forks CSD
  – Theron Mong, Niagara Wheatfield CSD
  – Brian O'Connor, Rochester CSD
  – Evan Powederly, Byram Hills CSD
  – Joe Rainis, Lynnbrook CSD
  – David Richardson, Greece CSD
  – Roni Puglisi, Victor CSD
  – Joan Rosenberg, Jericho CSD
  – Christopher Sanita, Guilderland CSD
  – Duane Smith, Byram Hills CSD
  – Robert Thomann, At Large
  – Bonnie Tryon, At Large
  – Charles Wheeler, Broome Tioga BOCES
  – Bryan Wood, Cohoes CSD
Please feel free to contact SAANYS Director of Government Relations Cindy Gallagher at cgallagher@saanys.org or call 518 782-0060.