November Meeting of the Board of Regents
A Report from Cindy Gallagher, SAANYS Director of Government Relations
The Board of Regents met in November with items for discussions ranging from the results of pilot projects on school climate to new processes for the review of capital projects. A few highlights from the meeting are as follow:
Promoting Healthy Schools
This presentation highlighted pilot projects from the  Buffalo and Schenectady City School Districts who implemented initiatives to improve school climate. The discussion focused on the importance of school climate, restorative practices in schools and implicit bias.
A few of the practices to improve school climate that the districts implemented included:
Establishing mental and physical health clinics
Saturday academies
Creation of mindfulness rooms
Establishing trauma sensitive schools through designated and trained teams ,accompanied by comprehensive training throughout the district
Shifting mindsets to view disruptive behaviors not so much as incidences requiring

 

interventions but rather, diagnostic opportunities.
District results include significant reductions in disciplinary events and improved academic results. The chart shown below was presented to frame a discussion on restorative practices.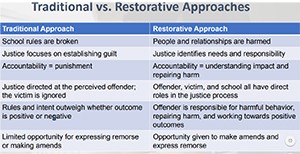 Moving toward restorative justice practices were undertaken with an understanding that current practices were not providing desired results for students. Data presented to reinforce this predisposition included:
Youth with discretionary suspensions are three times more likely to drop out of school.
Youth with a first arrest are two times more likely to drop out of school.
Youth with a first arrest and a court appearance are four times more likely to drop out of school.
Youth with juvenile court involvement are seven times more likely to have adult criminal records (Sweeten 2006).
The concluding part of the presentation focused on the need for students to gain increased social and emotional competencies. In districts where instruction included skill development in these areas, students had an 11 percent point gain in academic performance.
For every one point increase on an SEL scale in kindergarten students were :
Two times more likely to attain a college degree (presumably after completing grades above kindergarten) and
54 percent more likely to earn a high school diploma and 46 percent more likely to have a full time position by age 25.
More information on this presentation can be found at : http://www.regents.nysed.gov/common/regents/files/FB%20Monday%20-%20Promoting%20Healthy%20School%20Climates.pdf
Another item that may be of interest were the proposed regulations regarding transitional certificates. The proposed regulations would:
Allow

 

candidates employed under a pre-professional certificate to complete the student teaching program requirement in Section 52.21 of the Regulations while continuing to be employed by that district.
Allow persons with graduate degrees and postsecondary teaching experience, in any certificate area to obtain a transitional G certificate. Currently, only individuals with a graduate degree and postsecondary teaching experience in a science, technology, engineering, or math (STEM) field are eligible to pursue a Transitional G certificate. (NYSED Summary).
The regulations are intended to be adopted at the February 2018 meeting following a  required public comment period.