Nickson Announces Retirement as Deputy Executive Director
A Message from Executive Director Kevin Casey
After 19 years of dedicated service, Donald (Don) Nickson has announced his retirement as deputy executive director effective December 31, 2021. He will continue on staff, part-time and working remotely, on special projects as needed.  I recognize that I am the primary beneficiary of his "semi-retirement," as long ago I became dependent on his advice on a host of issues, and that aspect of his service will continue. He has been a reliable and high-quality sounding board, and willingly takes on many of our most demanding projects.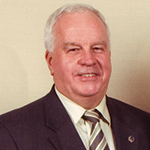 Don has spent those 19 years tirelessly traveling the state, delivering a level of personalized service to units and members that will assuredly be the hallmark of his legacy at the association. When I hired him, I asked for a commitment of at least two years. Clearly he has more than held up his side of the bargain. I thank Don for his friendship, all of his good work, and his sage advice. He has unquestionably had a direct hand in helping grow the number and quality of services SAANYS provides and has been an integral part of the success of our association, including the growth in membership we have experienced over the years.
Don is a lifelong educator with a strong commitment to all students, spending most of the early years of his career as a special education teacher and supervisor before moving into building administration, serving 16 years as a principal in Johnstown CSD. "It has been a great honor to serve the association in this capacity and was the best possible experience following my career as a principal," commented Don.  "I am proud of what we have accomplished and believe that SAANYS is well-positioned for continued success and growth."
Effective January 1, 2022, current Deputy General Counsel Jennifer (Jenn) Carlson will assume the duties of deputy executive director.  Don noted that he was "pleased that my friend and colleague Jenn Carlson will be our new deputy executive director." The SAANYS Board of Directors and staff wish both Don and Jenn much success and happiness on the next leg of their journey and are confident that SAANYS members will continue to experience the steadfast service they have come to depend on.