ESEA Reauthorization Nearly Finalized
NCLB to Become ESSA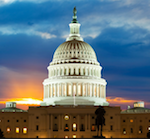 SAANYS members met twice, in Washington DC, with members of New York State's federal delegation. The meetings were scheduled in February 2015, during the National Association of Elementary School Principals (NAESP) legislative conference, and in June 2015, during the National Association of Secondary School Principals (NASSP) legislative conference. At all the meetings with our senate and congressional representatives, the reauthorization of ESEA was an important item for discussion. SAANYS opposed the original House Bill H.R. 5, which would have frozen funding levels, allowed portability, and expanded charter schools. Although it's not perfect, SAANYS does support Senate Bill 1177, the basis of the new ESSA (Every Student Succeeds Act).
Among the SAANYS-recommended provisions included in S.1177/ESSA:
Increased formula-based funding that is based on student poverty, no portability (i.e., funding follows the students to the school of their choice).
Deletion of teacher and principal annual professional performance review requirements.
Limiting the federal role in setting mandates or providing incentives, including Common Core Standards.
Greater state flexibility in regard to school and district accountability.
SAANYS also supported Congressman Chris Gibson's Bill 4172 (Student Testing Improvement and Accountability Act), which has regrettably not been included in ESSA. This bill would have discontinued the requirement (but would have included the option) to test every student every year in grades 3 through 8 in English language arts and mathematics. Instead, tests would be administered at least once in grades 3 through 5, 6 through 9, and 10 through 12 – similar to what was required prior to the No Child Left Behind Act.
For more information about the provisions contained in ESSA, see the following:
December 2 New York Times article.
Overview of ESEA changes per Education Week.
Help support the reauthorization of ESEA by writing your congressional representative using the simple tools in the SAANYS Legislative Action Center. Click here.