Congressman Tonko Meets with School Leaders From the Capital District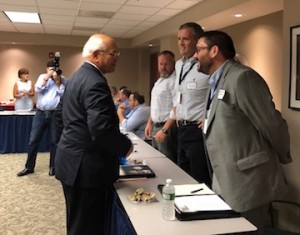 On August 3, 2018, Congressman Tonko met with principals and other administrators to discuss educational issues and challenges faced by these professionals on a daily basis.
Much of the discussion focused on the many facets of the increasing mental health needs of students and the challenges faced by schools. The difficulties in linking needed services in the community to students and their families were highlighted. A decreasing number of programs and structural deficits in the delivery systems contribute to this complex web of problems. Of particular concern was the difficulty in maintaining communication with providers over time. As most mental health interventions span a number of years, the types of system linkages that are needed to support consistent communication and services have not yet been developed.
Other discussions on restorative justice, school safety officers, social media, community circles, repurposing school building space for community-based services, ESSA, APPR, and net neutrality were all part of the morning discussions.
Congressman Tonko discussed legislation which he has co-sponsored that are intended to support the challenges discussed. The Mental Health in Schools Act of 2017 (HR 2913) and HR 5899 would support projects relating to school-based comprehensive mental health programs. School districts in Congressman Tonko's district are fortunate to have a strong legislative leader who remains committed to mental health and education. SAANYS look forward to our continued work with Congressman Tonko.