2017-18 Executive Budget and School Aid Runs
Download or view the just released school aid runs, which includes funding for fiscal year 2016-17 and the proposed funding for fiscal year 2017-18. Cuomo is proposing a total $1 billion increase of school aid statewide to $25.6 billion. The Board of Regents has suggested a $1.47 billion increase.
https://www.budget.ny.gov/pubs/executive/eBudget1718/fy18localities/schoolaid/1718schoolformula.pdf
Below are highlights of the proposed executive budget.
Governor's Proposed Budget
Late yesterday Governor Cuomo released his FY2018 proposed budget. Overall, SAANYS is pleased to see that the education component of the proposed budget continues or increases key education initiatives. We also acknowledge that while the proposal is headed in the right direction, school districts across the state do not have sufficient resources to implement all mandated yet unfunded or under-funded initiatives.
Proposed Budget at a Glance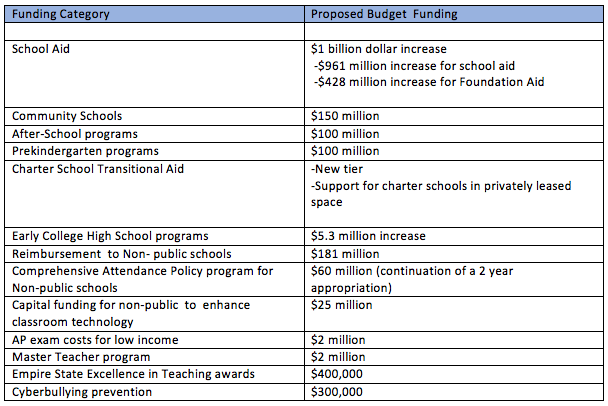 The $1 billion dollar increase to education aid includes a $961 million increase to School Aid, which is a 3.9 percent increase over FY2017. Within the $1 billion proposed allocation, there is a $428 million increase in Foundation Aid and $150 million is a targeted set-aside of community schools. Approximately 70 percent of funding is allocated to High Need districts.
The proposed budget also includes:
$100 million is proposed ($35 million of new funding) for after-school programs. It is anticipated that this funding will support an additional 22,000 placements of students in programs, which would result in approximately 80,000 students receiving after-school care in the 2017-18 school year.
$100 million is proposed for pre-kindergarten programs to expand both half and full day pre-k programs in high need school districts. It is anticipated that there will be a graduated streamlining of the current seven funding streams to provide greater program stability.
A new tier of Charter School Transitional Aid will be created. The charter school cap is maintained at its current level. Increased support for new and expanding charter schools, located in privately leased space, is proposed.
$5.3 million increase to expand early college high school programs which provide students the opportunity to earn college credit while attending high school. The funding will be targeted to schools that focus on computer science.
$181 million (3.9 percent increase) to reimburse non-public school costs for state mandated initiatives.
$60 million (continuation of a two-year appropriation) to non-public schools are proposed to accelerate the Comprehensive Attendance Policy program.
$25 million in capital funding is proposed for non-public schools to enhance classroom technology for students attending non-public schools.
$2 million to fund AP exam costs for approximately 68,000 low income students to relieve the costs of participating in the test program to promote educational equity to advanced coursework.
$2 million is proposed to fund an additional 115 master teachers, specifically in computer science. Currently, this program has awarded funding to 800 teachers to provide peer mentoring, professional development, and support for the next generation of STEM teachers.
$400,000 to fund a second round of Empire State Excellence in Teaching awards. It is anticipated that at least 60 teachers will be awarded funding on a regional basis. The funding may be used for professional development activities.
$300,000 is proposed for cyberbullying prevention which may include prevention strategies, professional development, and public awareness campaigns.