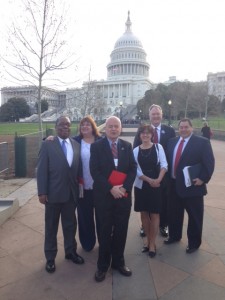 A team from SAANYS went to the NAESP Leadership Conference in DC, during the week of March 27-29, 2017 to lobby on important issues regarding a host of educational issues facing school leaders in elementary schools. The team members included:
Joyce Carr – (President–Elect SAANYS) – Supervisor of Pupil Personnel – Elmira City School District
Thomas Payton – Principal, Roanoke Avenue School – Riverhead School District (Long Island)
Peter Kruszynski – (State Director for NASSP) Middle School Principal, Lancaster CSD
Pierre Lehmuller – Executive Director, NYCESPA
Herman Merritt – Director of Government Relations – Council of School Supervisors and Administrators
Cindy Gallagher – Director of Government Relations, SAANYS
The first order of business was attending an intensive two day seminar on key educational issues and successful techniques for meetings with congressional representatives. The third day was a full set of meetings with the NYS congressional delegates. We met with the following members of congress or their staff.
Congresswoman Louise Slaughter Office – met with Legislative Assistant Jean Brumbley
Congressman Higgins Office – met with Legislative Assistant Erin Meegan
Congressman Lee Zeldin – met the Congressman and Senior Legislative Assistant Matthew Scott
Congressman Chris Collins – met with the Congressman and Legislative Assistant Taylor Kloustin
Congressman Sean Patrick Malony – met with Legislative Correspondent Mecole Hayes
Congresswoman Grace Meng – met with Legislative Director David Bagby
Congresswoman Elise Stefanik – met with Legislative Patrick Hester
Congressman Adriano Espaillat – met with Senior Legislative Staff Raphael Dominguez
Senator Chuck Schumer – met with Legislative Assistant Christina Henderson
Senator Kristen Gillibrand – met with Legislative Fellow Dr. Elizabeth Wehrspann
During each of the visits, our team discussed issues that were important to our school leaders in New York and what we were requesting of our delegates. At the conclusion of each meeting we left a folder and a one page "leave behinds"- available for download here.
One of our take aways from the meetings is that your representatives want to hear from you. Both Tom Payton and Peter Kruszynski have met several times with their delegates in their districts. It made all the difference in the world when we met with the delegates in DC. If there is any way that any of you are willing to make a call, invite them to a district event, or acknowledge them at district events, I believe that you will be surprised at how much that effort is appreciated. Your work and insights are important as they consider their positions on emerging issues and floor votes.
On April 24-26, 2017, a second team of school leaders participated in similar fashion for the NASSP Leadership conference. For this round of visits our focus was on secondary issues and current issues on ESSA. Our team consisted of:
Joyce Carr – (President–Elect SAANYS) – Supervisor of Pupil Personnel – Elmira City School District
Paul Fanuele – (President, SAANYS) Principal, Arlington High School, Arlington School District
Karl Thielking – Principal Pittsford Mendon High School – Pittsford CSD
Cindy Gallagher –Director of Government Relations, SAANYS
Thank you! Congressman Zeldin and Congressman Collins for taking time out of your very hectic schedules to meet with us. This was a particularly busy week on the hill and your time was very appreciated. Many thanks to all of the legislative staff from the various offices that took the time to meet with us. They were very very knowledgeable about the issues and took copious notes to make sure that our positions would be communicated with the congressional representatives who could not meet with us in person.