George Couros

George Couros is a leading educator in the area of innovative leadership, teaching, and learning. He has worked as a teacher, technology facilitator, school and district administrator, and is the author of the book, The Innovator's Mindset; Empower Learning, Unleash Talent, and Lead a Culture of Creativity. He is a sought after speaker on the topic of innovative student learning and engagement and has worked with schools and organizations around the globe. George is also the creator of ConnectedPrincipals.com, an initiative that brings educators and leaders together from around the world to create powerful learning opportunities for students.

Although George is a leader in the area of innovation, his focus is always the development of leadership and people and what is best for learners. His belief that meaningful change happens when you first connect to people's hearts is modeled in his writing and speaking. You can connect with George on his blog, "The Principal of Change" (located at georgecouros.ca) or through Twitter (@gcouros).
Q&A with Commissioner MaryEllen Elia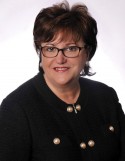 MaryEllen Elia is the New York State Commissioner of Education and president of the University of the State of New York. In this role, she oversees the work of more than 700 school districts with 3.2 million students; 7,000 libraries; 900 museums; and 52 professions encompassing more than 850,000 licensees. A native New Yorker, Ms. Elia has 45 years of experience as an educator. Prior to her appointment in New York, she served as superintendent of schools in Hillsborough County, FL, for 10 years. In Hillsborough, which includes Tampa and is the nation's eighth largest school district, she successfully implemented higher learning standards, partnered with teachers to develop a comprehensive evaluation system, and earned national recognition for gains in student achievement.