Full Board Meeting
The Board of Regents began their November meeting with an in-depth discussion on the well-being of lesbian, gay, bisexual, transgender, and queer youth (LGBTQ). The Regents heard from a panel consisting of Dr. Eliza Byard (Executive Director of GLSEN), Dr. Peter Wyman (University of Rochester), and a panel of student peer leaders from the Guilderland Central School District. The overall consensus of the presenters was that schools continue to be "hostile" places for many LGBTQ students, that prior gains seem stalled, and that gender related topics continue to be challenging for schools. Data was presented on the number of LGBTQ students and the types of discrimination experienced by such students. Click here  for a summary of the information presented that administrators may find helpful.
Students who identify as LGBTQ have higher indicators of mental health/suicide, violence, and tobacco, alcohol, and drug use than their non-LGBTQ peers. The following chart highlights just some of the repercussions for such youth: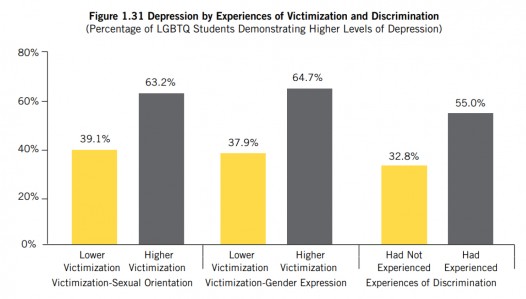 Byard made a key point regarding the importance of policies concerning LGBTQ students. In schools with working policies, the incidences of negative remarks has been reduced, in some cases, by 44 percent: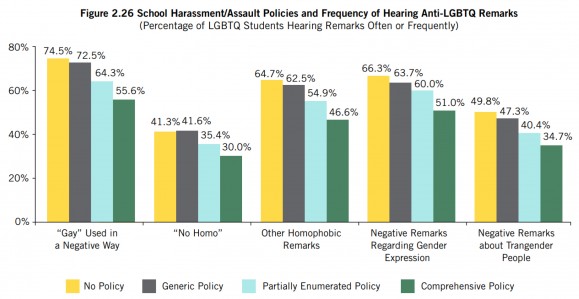 However, schools continue to be a difficult place for LGBTQ students. Although gender specific discrimination had decreased since 2013, it stagnated between 2015-17, and actually increased in 2017.
A critical factor for LGBTQ students is the availability of support systems. Since 2001, there have been steady increases in supports, inclusive curriculum, supportive teachers, and peer supports such as gay-straight alliances.
Discussions Around the Table by Board of Regents Members
Members of the Board (Finn, Cashin, and Tilles) stressed the need for extensive student and staff training. Regent Cashin mentioned training being undertaken by the University of Rochester, while Regent Tilles mentioned Stage the Change, an anti-discrimination training using the arts.
Regent Collins addressed the intersection between race and sexual orientation along with the need for this work to be conducted through a holistic approach, without losing the components of this complex social problem.
All of this critical work takes place within very distinct school cultures, the Board of Regents articulated their strong desire to support vulnerable youth.
Chancellor Rosa Makes Announcement on APPR
Just as the full Board portion of the agenda was ending, Chancellor Rosa made a very succinct and important announcement regarding APPR. The chancellor directed the commissioner to promulgate regulations for the December meeting to extend the moratorium on using student results on state assessments in teacher and principal evaluations. The moratorium will continue through 2019-20, allowing SED to proceed with a statewide effort to garner public feedback on teacher and principal evaluations.
An interesting article that provides some insights into the political ramifications surrounding APPR can be found here.
State Aid Committee
Preliminary budget discussions continued as the Regents prepared to finalize budget priorities. Each subcommittee continued discussions on fiscal issues which may ultimately be adopted by the entire Board. Currently, some budget priorities have been identified and are as follows:
full restoration of foundation aid
increased prekindergarten funding
funding to support training and certification for instruction to ELL students
professional development on the Next Generation Standards
funding for anti-bullying initiatives
funding to support greater access to career and technical education
funding for improved access to technology
Other Committee Work
The P-12 subcommittee approved several charter applications and discussed budget priorities. The Cultural Education subcommittee focused on the history of the Hudson Valley. The report, available here, may be of interest for those wishing to supplement instruction using authentic resources.