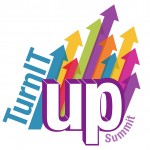 TURN YOUR INSTRUCTIONAL TECHNOLOGY UP!
Cost: $99 (includes morning refreshments and lunch)
Download the flier
TurnIT Up Summit at Chatham High School is a one-day learning event designed for Administrators, Classroom Teachers, Teaching Assistants, Coaches, and any educator that is ready to explore learning beyond their comfort zone.
The action packed day will be run similar to a conference; all learning levels are invited to attend. Our action packed Capture sessions (60 minute sessions) are for an overview of material, Immersive sessions (hands-on 90 minute sessions) are designed for a deeper dive, and lastly hands-on playtime in our PlayIT Playground area will allow for exploration of new technologies.
Start your day with an energized Ramp UP Session where all of our presenters give the audience a taste of what they will be teaching. Then move into our sessions with focuses on everything Google, Expeditions, Robotics, Coding, and much more. Keep fueled UP with our morning refreshments and afternoon lunch. Water, coffee and lunch are included in the registration fee.
This is a BYOD event, please bring with you a device and a power cord use during each of the sessions you will be attending. It is not required, but earbuds are always encouraged to bring.
Session Overviews
Capture Session (60 minute sessions)
Choose from many powerful one-hour sessions that go beyond the basics and push your learning further. All sessions are leveled and will have you leaving energized as an educator. Connect with other like-minded educators to explore beyond your current knowledge.
Immersive Session (90 Minute Sessions)
Take a deeper dive into your learning. Immersive sessions are longer sessions which allow for more time to explore your passion and have the hands-on opportunity you may be looking for. Our trainers will explore with you and showcase their expertise as you learn alongside.
PlayIT PODS (Playground Area)
This is your time to PLAY! Learning is all about play time and here is your chance. Come explore some new technologies; alone, with a friend, or join a group already playing. Visit the PlayIT Up Pods in the Vendor area.
Session Topics
Google Apps for Education
Microsoft in the Classroom
Minecraft EDU
Robotics
STEAM Education
Augmented and Virtual Reality
Technology Integration
Coding
…and Many More