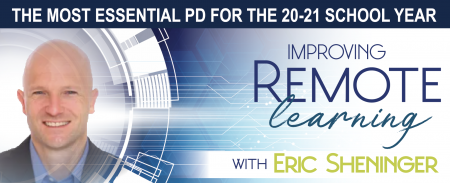 As you face a year of uncertainty and strive to lead multiple learning options, your skills as a leader are essential to support constant improvement with remote learning models. This series is built upon the unique challenges that face school leaders who want to support teachers, students, and families in this new environment, but need to build their own knowledge and skill base to do so. Each of these synchronous sessions will be engaging, interactive, and built around your needs and challenges.
OCT 27: Lessons Learned: Pitfalls to Avoid
How is true remote learning different from the emergency online fixes we had to provide during closure last year?
NOV 16: Planning for an Unpredictable School Year
DEC 8: Moving to Hybrid Models
JAN 13: Implementing Universal Blended Learning
FEB 2: Engaging Students and Families in Remote Learning
MAR 3: Supporting Teachers with Digital Tools for Engagement and Learning
MAR 23: Providing Feedback on Teaching and Learning in a Remote World
APR 12: Digital Pedagogy for Deeper Learning
APR 26: Growing as an Instructional Leader in a Time of Turmoil
Click here to download a flier.