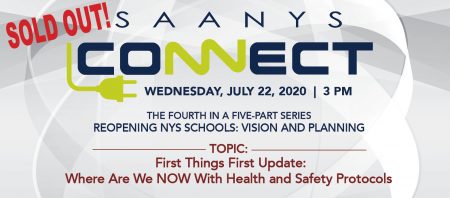 "First Things First: Health and Safety Protocols" was the first of our five part SAANYS CONNECT Reopening Schools Series held back on June 11. As promised, our same distinguished panel will return on July 22 to evaluate where we are now as opposed to June 11 and share thinking and strategies to continue moving forward based upon evolving events and new guidance. Everyone agrees that the #1 concern and priority for fall is how to keep everyone safe and healthy, but the complex questions surrounding how to do this best in a way that is realistic and attainable continue to challenge us:
What guidance do we have and what aspects of reopening are being left up to individual districts?
What is recommended and what is required?
What happens when students or staff get sick?
What cautions should be taken in ordering new equipment and working with safety and fire codes?
How are schools attempting to meet distancing requirements within constraints related to space and
budgets in classrooms, hallways, buses and other spaces?
What are some scheduling options schools are considering, and what is the status of the
180-day attendance requirement?