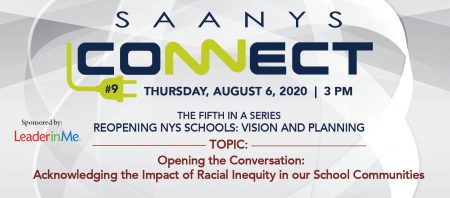 We saw how COVID-19 exposed the inequities that have existed all along for students and families of color. School closure and the demands and shortcomings of remote learning lit up the deep equity gaps that exist even in 'normal' times. In addition, the death of George Floyd and others brought anger and frustration about other forms of systemic racism to a head. As we focus on the logistics of health and safety protocols as schools reopen, we cannot ignore or minimize the deep cultural and personal impact of these recent events on our students. Join us on August 6, when we will explore such questions as:
What blindspots related to race currently exist in our schools and districts that need to be addressed if we hope to engage and deepen the trust, confidence, and respect of students and families?
What steps can be taken to improve our collective capacity as educators to promote anti-racist environments at a time when more is being asked of us as school leaders than ever before?
How can we create safe spaces to support students who may need to process the feelings and emotions they are dealing with? Are we ready to respond to issues that may arise between and among students related to civil unrest?
How can we get our staffs, who may be highly segregated themselves, to be more open to exploring hard questions around racism when we don't feel prepared ourselves?