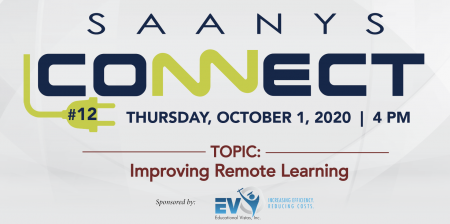 Remote models are here to stay. Your role as a school leader, regardless of your own ease or skill with technology, is a challenging one. How can you build the capacity of your teachers to engage students and families and continuously improve the quality of fully remote and hybrid models throughout the course of this school year?
This SAANYS panel brings together the expertise of well-known leaders in the field of virtual instruction with member practitioners who are leading districts like yours through this challenging year. Our conversation will focus on such questions as:
What challenges need to be overcome to successfully implement and sustain remote learning over this school year and beyond?
How does pedagogy need to change in the process, and what are some strategies that are working to promote that change?
What are the logistical challenges now, and how are they similar or different to those last March?
What is the best way to support teachers and bring them along in their skills while doing our best to decrease stress and anxiety?
What are the predominant skills teachers are trying to build now, and how can we provide them with the best learning options?
What is happening at the state level to support virtual models in our schools?
Click here to download a flier.