When Do You Make that Call to SAANYS Legal Department?
Five Things You Can Do to Avoid Common Pitfalls
Don't miss this discussion with our SAANYS attorneys about knowing when it's time to make that phone call, and more importantly, what you could (and should not) do to avoid some of the most common situations that prompt that call.  Expect a lively and informative conversation that will let you in on some of the common kinds of situations our SAANYS attorneys deal with and clarify some do's and don'ts that all school leaders should be aware of.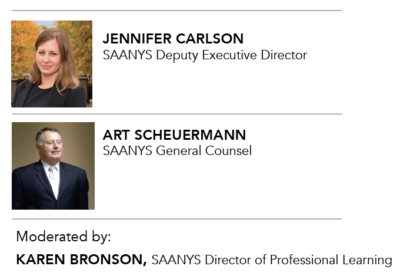 FREE – THIS IS A SAANYS MEMBER ONLY EVENT.
Download a flier here.