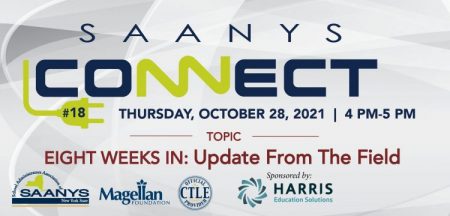 The 2021-2022 school year is now well underway. Take a minute, take a breath, and pat yourself on the back for navigating a third school year of disruption, unpredictability, and turmoil, not only behind your school doors but in the communities that surround them. 
Each of the past three years has been different from the last, demanding new things of you as school leaders and presenting you with unique challenges (and some unexpected silver linings) that you may have never imagined "BC."
This year, we continue our SAANYS CONNECT panels to give you opportunities to connect with colleagues around the state to commiserate, learn, and share not only the challenges, but what we are learning along the way that we can share with one another. As in past panels, resources and actual tools that other schools are currently using will be made available to you.
Don't miss this kickoff of our "Update from the Field" series on October 28, featuring:
DR. CYNTHIA GALLAGHER
SAANYS Director of Government Relations
JENNIFER CARLSON
SAANYS Deputy General Counsel and incoming Deputy Executive Director
HARRY LEONARDATOS
Principal, Clarkstown High School North and incoming SAANYS President
MICHELLE FEYERABEND
Assistant Superintendent, Chenango Valley CSD
DR. CHIEF J. TAYLOR
Assistant Principal, Freshman Center, Brentwood
EVA WILLIAMS
SAANYS 2021 NYS Elementary Principal of the Year Award, Syracuse City SD
Recordings of past SAANYS Connect panels are available at www.saanys.org.
Each panel conversation consists of guest experts and SAANYS members.
The focus is on sharing experiences and providing you with expertise, resources, and tools you can use now and as our current environment evolves.
OPEN TO ALL EDUCATORS FREE to SAANYS members and $25.00 non-members
Download a flier here.