In this three-part virtual series, top education authors give you leadership tools to start the school year strong and build upon what's been learned to result in a more supportive and equitable school community.
Part 1: JULY 27 – Culture, Class, and Race: Constructive Conversations That Unite and Energize Your School and Community
Brenda CampbellJones, Franklin CampbellJones, and Shannon Keeny
Honest conversations about tough topics and emotionally charged subjects – race, class, and culture — can be daunting. This session will provide you with a framework for having these critical conversations in a way that will build trust and strengthen your interactions.

Part 2: AUGUST 3 – Forces of Influence: How Educators Can Leverage Relationships to Improve Practice
Fred Ende and Meghan Everette
Learn how to leverage the all-important relationships that will influence outcomes and effect real change. Explore the art of the four forces: the pull, the push, the shove, and the nudge, and know-how and when to use them.

Part 3: AUGUST 10 – Your Students, My Students, Our Students: Rethinking Equitable and Inclusive Classrooms
Nancy Frey, et al
Explore the hard truths about current general and special
education practice and outline five essential disruptions to
the status quo.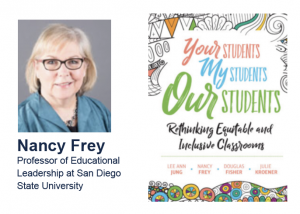 Download a flier here.