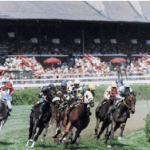 Join us in the Festival Tent for a day of racing and raffle prizes!
August 7 is the last day for online registration and your ticket will be mailed to you.
After August 7, you will need to pick up your tickets at the Festival Tent and pay the gate fee as well as the event fee of $25.
Registration is now closed.
COST:
$25/SAANYS members and guests, $20/administrative assistant
– Gates open at 11 am –
For guests and/or administrative assistants, please register individually with one registration form per attendee. If you need any additional information, please contact Linda Klime at lklime3@gmail.com.