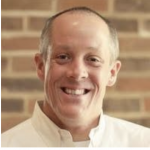 Presented by Dr. Robert Dillon; Educator, Author, Consultant
Dr. Robert Dillon has served as an educational leader throughout the Saint Louis area over the last twenty years as a teacher, principal, and director of innovation. Dr. Dillon has a passion to change the educational landscape by building excellent engaging schools for all students. Dr. Dillon has had the opportunity to speak throughout the country at local, state, and national conferences as well as share his thoughts and ideas in a variety of publications. He is the author of four books on best practices in learning.
Monday, July 13 | 10:00am | Designing Healthy Spaces
Returning to school buildings in the fall will require a full community consideration of some challenging questions around learning environments.  This webinar digs into many of these questions and begins to examine some potential solutions and ways forward for schools and districts.
What are the elements of a healthy and safe building?
How do we promote social emotional health in. our new space designs?
How can we design space in agile ways to flex with different phases of return?
Monday, July 20 | 10:00am | Designing A Blended User Experience
As many students struggle with distance learning, others are thriving.   There is much to be learning from the spring learning experience.  How can we capture the best of this effort to craft a robust and successful blended learning experience moving forward?  This webinar examines how new learning models will need to take hold as we return in the fall.
How can we maintain and extend the technology implementation confidence of teachers?
How might a virtual academy support teaching and learning?
What could a. modern student user experience look like going forward?
Monday, July 27 | 10:00am | From Return To Re-envision
What we've known probably will never work again as a full solution for learning.  With the reality, how can schools move from a return to school mindset to a re-envisioning school over the next few years.   This webinar explores the questions that can provide a path to. a new normal.
What types of technology tools should be a part of our long-term plan?
How can we rethink assessment?
What innovation can emerge and stick?
What new structures and systems do we need?