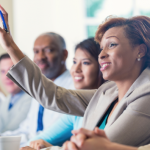 Join your colleagues for two days of professional conversation and learning around topics that promise to support you with the work ahead in the new school year. These informative and interactive workshops promise to be enjoyable, thought provoking, and practical.
Registration fee of $50 includes the book, Rethinking Grading: Meaningful Assessment for Standards-Based Grading by Cathy Vatterott and meals. Click here to download a flier.
Sample topics include: 
Rethinking grading, tech trends and tips, situational simulations, ELIs, building professional capacity, Google classroom, SAMR model, and connecting data with instruction.