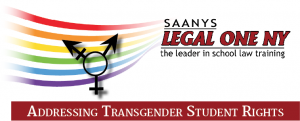 NOVEMBER 17, 2017
Plainview Holiday Inn | Plainview, NY
This workshop will address LGBTQ legal rights with an in-depth discussion of student and staff issues. It will also provide a legal framework and best practices for addressing students who resist gender identity labels, and therefore do not identify as either male or female, or do not consistently identify with one gender. It is designed to assist school leaders with proactively promoting a school climate that is accepting of all students, regardless of sexual orientation or gender identity. Participants will gain an understanding of:
– The language of gender identity and expression
– Overview of applicable state and federal law
– Essential elements to include in board policies and procedures
– Practical considerations – what is reasonable?
Click here to download a flier.