Region 6 Student Scholarships

Region 6 Student Scholarship Award applications are now being accepted. All applications must be received by March 1, 2019. Qualified students should submit an application form with a transcript and resume by Friday March 1, 2019 –  http://bit.ly/saanys2019scholarship.
Region 6 Annual Awards Breakfast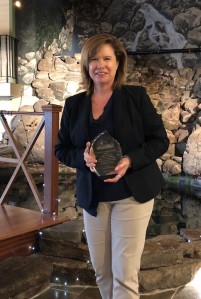 SAANYS Region 6 was proud to recognize and honor local school administrators, student leaders in Grades 4-12, student scholarship recipients, and contributors to the field of education at their awards ceremony on May 22.
Pictured here is Karen Urbanski, Rensselaer Junior-Senior High School principal, recipient of the Jennie Pennington Award. This award is given in name of Jennie C. Pennington, who dedicated her professional career to her students, staff, and community. Jennie was an exemplary English teacher, an involved supervisor, an exceptional high school principal, and champion of the teaching and school leadership professions.
Other awards included the Excelsior Awards presented to: Colleen Lester, Cambridge Elementary Principal and Robert Messia, Algonguin Middle School Principal.
The Region 6 Friend of Education Award was presented to Fulton County Sheriff Richard C. Giardino.
In addition, 64 students were presented with awards for student leadership and 10 graduating seniors where presented with SAANYS Region 6 scholarships.
Congratulations 2018 SAANYS Award Winners!

NYS High School Principal of the Year
Michael Dardaris
HFM PTECH

Irving Schwartz Distinguished Retiree Award
Gene Gordon
Schalmont CSD (retired)
Regional Structure
Under the leadership of the regional chairperson, elected committee members provide collegial support for administrators and administrative units in the region. Your regional representatives are your local contact for state-level representation and coordination of services.