Congratulations Region 11 Friend of Education Award Winners
On behalf of the SAANYS Region 11 Board of Directors, it is our pleasure to honor these nine County Public Health Officials, with the 2021 SAANYS Region 11 Friend of Education Award. They have been a significant part of helping to safeguard the health of our schools, so that the mission of education could continue in our region. We thank them for their efforts, their energy, and the commitment they have all demonstrated to our school communities during this time of unprecedented uncertainty.
Cayuga County: Kathleen Cuddy, MPH
Genesee and Orleans County: Paul A. Pettit, MSL, CPH, Public Health Director
Livingston County: Jennifer Rodriguez, Public Health Director
Monroe County: Michael D. Mendoza, MD, MPH, MS, Commissioner of Public Health
Ontario County: Mary L. Beer, RN, MPH, Public Health Director
Schuyler and Yates County: Annmarie F. Flanagan DNP, FNP-C, Public Health Director
Seneca County: Vickie Swinehart, RN, MS, Director of Public Health
Steuben County: Darlene Smith, Director
Wayne County: Diane M. Devlin RN, BSN, MS, Director of Public Health

SAANYS Region 11 College Scholarship Award Winners
SAANYS Region 11 is proud to announce that this year we were able to award three one-thousand-dollar scholarships to the students listed below. The students submitted an essay titled, "A School Administrator Who Made a Difference in My Life." A committee led by Breanna Mullen, assistant principal in the Seneca Falls CSD, reviewed the essays and made the selections. Congratulations and best wishes to the students and their administrators. The administrators received a plaque acknowledging this honor.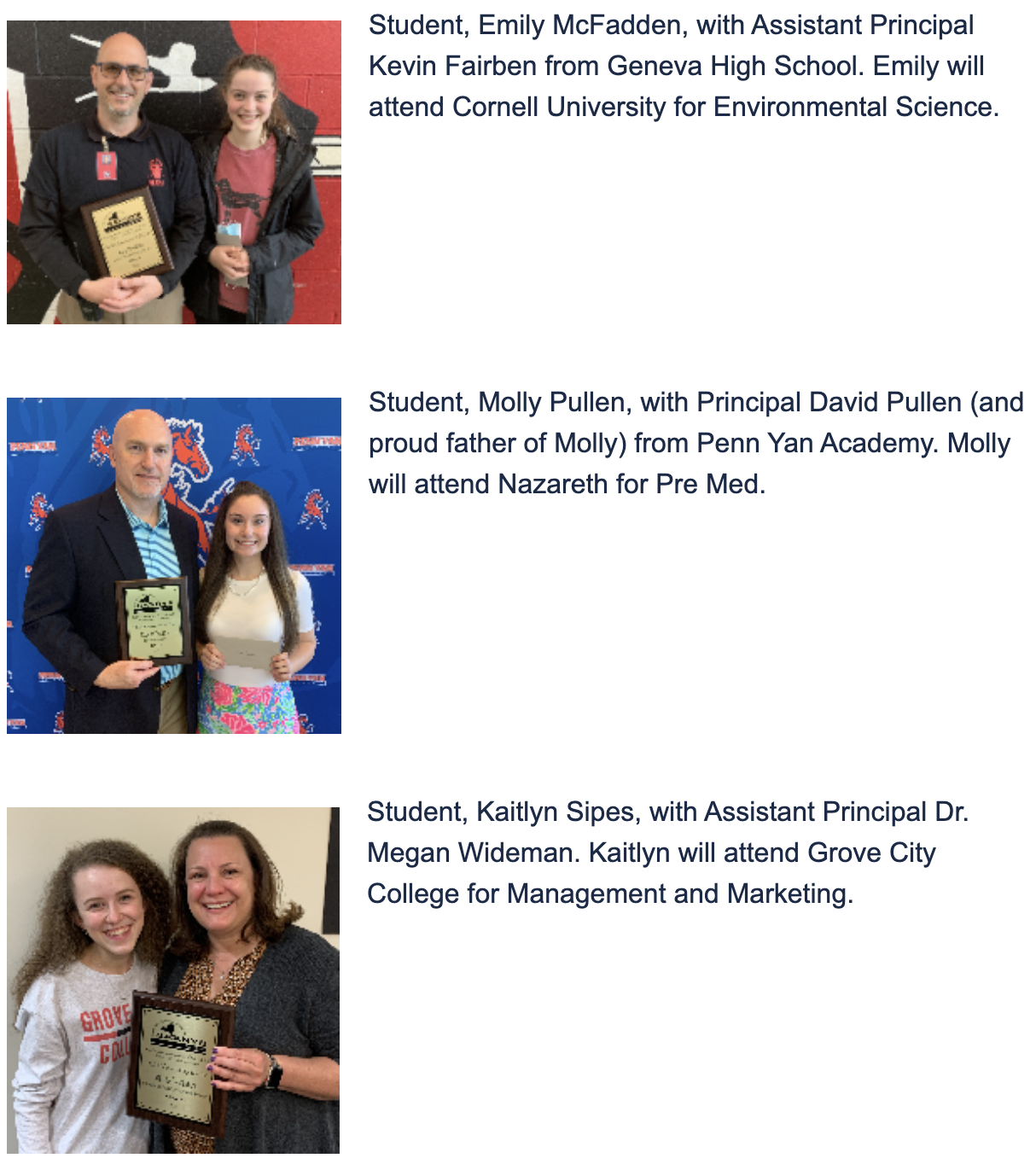 Congratulations Region 11 Award Winners!
Elementary: Francine Leggett, Principal, Webster School District
Middle School: Tracie Czebatol, Principal, Hilton School District
Jackie Saunders, Assistant Principal, Webster School District
District Level: Kristin Paolini, Director of Curriculum, Spencerport School District
Essential Services Leader: Wayne Kittelberger, Director of Transportation, Rochester City School District
Friend of Education: Monroe County Sheriff's Department
Student Scholarship Winner: Jennifer Page, Honoring Breana Mullen, Assistant Principal of Mynderse Academy, Seneca Falls School District
Regional Structure
SAANYS' Region 11 executive committee serves members in Livingston, Monroe, Ontario, Seneca, Wayne, and Yates counties. Under the leadership of the regional chairperson, elected committee members provide collegial support for administrators and administrative units in the region. Your regional representatives are your local contact for state-level representation and coordination of services.