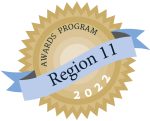 Congratulations to the following SAANYS Region 11 Award Recipients:
George Vito Administrator of the Year – Secondary Level:
Jessica Silsby, Assistant Principal, Spencerport CSD
George Vito Administrator of the Year – District Level
Elizabeth Thornton, Director of Student Services, Hilton CSD
Julie Forgione, Director of Special Education, Hilton CSD
Shannon Alvarado, Supervisor of Hiring and Recruiting – Monroe II Orleans BOCES
Karl Kania, Director of External Operations – Rochester City School District
SAANYS Region 11 Retiree Award
Cyndi Lembo, Retired Principal, Monroe I BOCES, SAANYS Region 11 Board Member
SAANYS Region 11 Friend of Education
Carrie Green, President and founder of Happy Birthday Cha Cha Cha
SAANYS Region 11 $1,000 Scholarship Awards
Hannah Gentile – Greece Olympia High School, Greece Central School District
Honored Administrator – Marc Fleming, Principal, Greece Olympia High School, Greece Central School District
Jakob Smith – Dansville High School
Drew Morrow – Dansville High School
Honored Administrator – Dave Moodie, High School Principal and Athletic Director, Dansville Central School District
Recipients will be honored at the SAANYS Region 11 Annual Awards Ceremony at Midvale Country Club on May 19, 2022 starting at 5:00 PM. In addition, the 48 Region 11 unit presidents will be recognized. Thank you to our sponsor, Renaissance for their support of this event.
____________________________________________
Regional Structure
SAANYS' Region 11 executive committee serves members in Livingston, Monroe, Ontario, Seneca, Wayne, and Yates counties. Under the leadership of the regional chairperson, elected committee members provide collegial support for administrators and administrative units in the region. Your regional representatives are your local contact for state-level representation and coordination of services.