Region 11 Awards Ceremony
Click here to Register
April 26, 2018
Midvale Country Club
For additional information, contact Cyndi Lembo at Region11awards@gmail.com.
Congratulations 2017 SAANYS Award Winners!
NYS High School Principal of the Year & NASSP NYS Principal of the Year
Thomas Hall
Brighton CSD
K-12 Building Principal Award
Sheelarani Webster
Rochester CSD
Friend of Education
Kim McCluski
Pittsford Board of Education
Region 11 is Pleased to Announce this Year's Award Winners
The award winners were honored at a dinner on April 27 at the Midvale Country Club. Congratulations to the winners!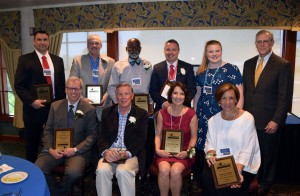 Elementary Administrator – Danielle Dehm, Victor School District
Secondary Administrator – Ken Sharp, BOCES 2 and Michael Pullen, Wayne School District
District Level Administrator – Nancy Carr, BOCES 1
Civil Service Administrator – Andy Scott, Rochester City School District
Friend of Education – Mark Kokanovich, Brighton Board of Education
Retiree – C Michael Robinson, RCSD Retiree
Student Scholarship Winner – Piper Bailey, honoring Fairport High School Principal Robert Clark
Regional Structure
SAANYS' Region 11 executive committee serves members in Livingston, Monroe, Ontario, Seneca, Wayne, and Yates counties. Under the leadership of the regional chairperson, elected committee members provide collegial support for administrators and administrative units in the region. Your regional representatives are your local contact for state-level representation and coordination of services.